2012 Polaris Turbo IQ Options, Equipment, and Prices
Select 2012 Polaris Turbo IQ Options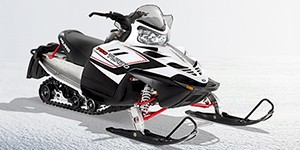 Fast Facts
Configured as a turbocharged snow sled, the 2012 Polaris IQ is a high performance snowmobile costing less than others. Ideal for cruising across flat snow, the sporty-looking 2012 Polaris IQ will win over fans of top speed. The 2012 Polaris IQ rides on skis specifically designed for the snowmobile. The 2012 Polaris IQ features a high-quality suspension system with adjustable shocks supplied by Walker Evans. With the Walker Evans shock absorbers, the 2012 Polaris IQ receives exceptionally high suspension travel thresholds result with 10 inches at the front and 14 inches at the rear. Powered by a single turbocharger unit, the 2012 Polaris IQ Turbo is a two-cylinder, 750 cc engine. The 2012 Polaris IQ Turbo's engine also enjoys the rapid response and efficiency of electronic fuel injection. A 121-inch long RipSaw track allows the 2012 Polaris IQ Turbo to sail swiftly across snow. A fully digital gauge cluster and electric start is standard on the 2012 Polaris IQ Turbo.
Polaris Note
MOTORCYCLES/ATVS/UTILITY - For further information on victory, see listing under victory motorcycles.
SNOWMOBILES - Manufacturer will not release missing weight information. Contact manufacturer for weight specifications.
PERSONAL WATERCRAFT - No longer in production.