2012 Polaris 800 Rush Options, Equipment, and Prices
Select 2012 Polaris 800 Rush Options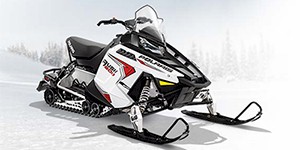 Fast Facts
The 2012 Polaris Rush range of snowmobiles are created specifically for on-trail performance. Constructed on a Pro-Ride chassis, the basis for the 2012 Polaris Rush machines is created stiff and nimble for reliable handling. Consisting of five models for 2012, the Polaris Rush is powered by a two-cylinder engines using Cleanfire technology. A 599 cc displacement size engine powers the 2012 Polaris Rush 600 series snowmobiles while the Rush 800 models feature a 795 cc powerplant. The 2012 Polaris Rush 600 and 800 base models are equipped with a Fox front and rear shock absorbers. A PRO-R model is available with both the 2012 Polaris Rush 600 and Rush 800 sled type. The 2012 Polaris Rush 600 PRO-R and Rush 800 PRO-R features a lighter weight rotor and jackshaft as well as Walker Evans needle shocks with 16 positions of adjustment. Featuring a unique black and orange paint scheme as well as an electric start, the 2012 Polaris Rush 800 PRO-R LE incorporates amenities to enhance the pleasure for performance snowmobilers. An improved rear suspension with a lower friction pivot is found on most 2012 Polaris Rush models providing the rider with more responsive handling.
Polaris Note
MOTORCYCLES/ATVS/UTILITY - For further information on victory, see listing under victory motorcycles.
SNOWMOBILES - Manufacturer will not release missing weight information. Contact manufacturer for weight specifications.
PERSONAL WATERCRAFT - No longer in production.