2012 Polaris 550 Shift 136 Options, Equipment, and Prices
Select 2012 Polaris 550 Shift 136 Options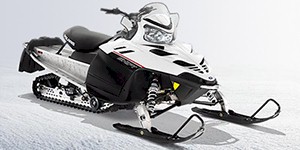 Fast Facts
A value-minded sled for on-trail or off-trail riding, the 2012 Polaris Shift is a solid, well-performing snowmobile. For 2012, all Polaris Shift machines share an updated design coated with a white and black color scheme. Utilizing Polaris' IQ suspension technology, the 2012 Shift sleds are given the ingredients for an aggressive ride. Ryde FX MPV shocks provide 10 inches of travel at the front and up to 14 inches of movement at the rear. Featuring three specific models for 2012, the Polaris Shift is powered by one of two twin-cylinder engines. Propelled by a fan-cooled 544 cc powerplant, the 2012 Polaris Shift 550 IQ features NiCaSil-lined cylinders. The 2012 Polaris Shift 600 IQ model is powered by a liquid-cooled 599 cc engine fitted with Cleanfire injection. The 2012 Polaris Shift 550 IQ and 600 IQ snowmobiles operate on 121-inch long shockwave tracks. Also available is a 2012 Polaris Shift 550 136 version featuring a longer 136-inch Shockwave track with a 1.25-inch depth. For optimal rider position in cornering and stand-up riding, the 2012 Polaris Shift line-up incorporates a freestyle seat design.
Polaris Note
MOTORCYCLES/ATVS/UTILITY - For further information on victory, see listing under victory motorcycles.
SNOWMOBILES - Manufacturer will not release missing weight information. Contact manufacturer for weight specifications.
PERSONAL WATERCRAFT - No longer in production.