2012 Polaris 550 IQ LXT Options, Equipment, and Prices
Select 2012 Polaris 550 IQ LXT Options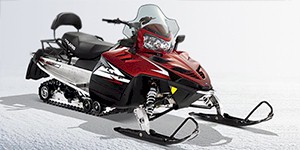 Fast Facts
A powerful, turbocharged snowmobile, the 2012 Polaris LXT is created to allow comfortable two-passenger riding. A Sunset Red colored machine, the 2012 Polaris LXT is styled to effectively project a sense of performance. Comfort and handling for the 2012 Polaris LXT is provided through Ryde FX shock absorbers. Permitting a high level of suspension travel, the front of the 2012 Polaris LXT can move up to 10 inches while the rear track offers 14 inches of travel. A 136-inch long Hacksaw track on the 2012 Polaris LXT provides useable traction for trekking through snow. The 2012 Polaris LXT Turbo is propelled through a two-cylinder, 750 cc engine. The turbocharged powerplant is equipped with electronic fuel injection and a Bosch ignition system. A snowmobile specifically tailored for a rider and passenger, the rear seat of the 2012 Polaris LXT includes a full backrest and hand warmers. A dash-located 12-volt power outlet and heated shield plug is among several standard conveniences provided on the 2012 Polaris LXT.
Polaris Note
MOTORCYCLES/ATVS/UTILITY - For further information on victory, see listing under victory motorcycles.
SNOWMOBILES - Manufacturer will not release missing weight information. Contact manufacturer for weight specifications.
PERSONAL WATERCRAFT - No longer in production.