2012 Honda VT750C2C Shadow Spirit Options, Equipment, and Prices
Select 2012 Honda VT750C2C Shadow Spirit Options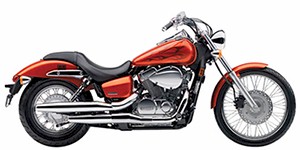 Fast Facts
An entry-level motorcycle presenting style and excellent road performance, the 2012 Honda Shadow® treats riders to a raw appreciation of two-wheeled adventure. Built on a steel tube frame, the 2012 Honda Shadow® rests on a suspension system consisting of a 41-millimeter front fork and an adjustable dual shock setup. The 2012 Honda Shadow® is powered by a 745 cc, V-twin engine. For 2012, all versions of the Honda Shadow® receive the swift performance and efficiency of a Programmed Fuel Injection system. Provided in five trim levels for 2012, the Honda Shadow® motorcycles feature identical base prices. Available in Candy Orange Flame or Black, the 2012 Honda Shadow® Spirit 750 presents a character equally at home roaming city as well as country roads. Featuring a mostly black appearance, the 2012 Honda Shadow® Phantom is accented with thick tires. The 2012 Honda Shadow® RS projects an image of simplicity and retro styling that is now featured in Candy Blue. Large fenders, wire wheels and a two-piece seat define the 2012 Honda Shadow® Aero motorcycle. The 2012 Honda Shadow® Aero can also be ordered with an anti-lock braking system.
Honda Note
VINTAGE - 1948-1958 Due to the rarity of these years and models of Honda, pricing data is still being collected.
PERSONAL WATERCRAFT - No longer in production.
2012 Note
All Goldwing prices include premium audio pkg.
In 2012 only curb weight was reported.