2012 Honda VT13CSC Sabre Options, Equipment, and Prices
Select 2012 Honda VT13CSC Sabre Options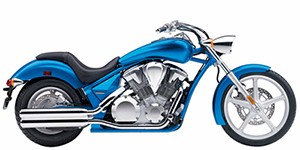 Fast Facts
Featuring the performance of a powerful V-twin engine on the frame of sporty, custom-looking motorcycle, the 2012 Honda Sabre® is a marriage of technological sophistication and old-time two-wheeled excitement. A design that incorporates low, chromed handlebars and a sharp front-end rake, the appearance of the 2012 Honda Sabre® is also noted for its small fenders. An Ultra Blue Metallic paint scheme looks alongside the chrome trim succeeding in a high-shine presentation. A 41-millimeter front fork and single rear shock provides the 2012 Honda Sabre® with suitable road handling manners. In addition to the front rake, the 2012 Honda Sabre® motorcycle's custom appearance is also detailed with a 21-inch front wheel. Propelling the 2012 Honda Sabre® is a fuel-injected 1,312 cc two-cylinder engine mated to a five-speed transmission. Fitted with disc braking on the front and rear, the 2012 Honda Sabre® can also be upgraded with optional anti-lock braking control.
Honda Note
VINTAGE - 1948-1958 Due to the rarity of these years and models of Honda, pricing data is still being collected.
PERSONAL WATERCRAFT - No longer in production.
2012 Note
All Goldwing prices include premium audio pkg.
In 2012 only curb weight was reported.