2012 Honda VT1300CTAC Interstate (ABS) Options, Equipment, and Prices
Select 2012 Honda VT1300CTAC Interstate (ABS) Options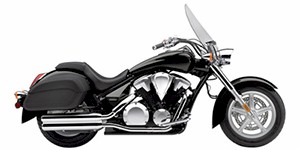 Fast Facts
Providing a mixture of custom and touring style, the 2012 Honda Interstate is an eye-catching way to travel long distances. Similar in construction to the chopper inspired Honda Sabre, the 2012 Honda Interstate receives a custom windscreen, leather saddlebags and front tires featuring a larger sidewall for more consistent road handling. For long tours, the 2012 Honda Interstate rides on a suspension consisting of a 41-millimeter front fork and a single rear shock absorber for responsive, road-going comfort. Delivering abundant V-twin performance, the 1,312 cc engine of the 2012 Honda Interstate includes Programmed Fuel Injection for intelligent fuel delivery into three-valve, dual-plug combustion chambers. The 2012 Honda Interstate's powerplant is mated with a five-speed gearbox. Standard equipped with full disc braking, a version of the 2012 Honda Interstate is also available with anti-lock braking for an extra layer of security. The 2012 Honda Interstates is available in either a Dark Red Metallic or Black color scheme.
Honda Note
VINTAGE - 1948-1958 Due to the rarity of these years and models of Honda, pricing data is still being collected.
PERSONAL WATERCRAFT - No longer in production.
2012 Note
All Goldwing prices include premium audio pkg.
In 2012 only curb weight was reported.