2012 Honda VT1300CRAC Stateline (ABS) Options, Equipment, and Prices
Select 2012 Honda VT1300CRAC Stateline (ABS) Options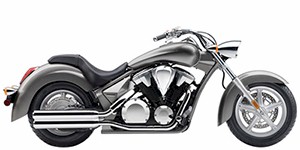 Fast Facts
Created for custom motorcycle fans, the 2012 Honda Stateline is a highly stylized vehicle adhering to retro design characteristic while incorporating modern technology. Presented with a low, sleek appearance, the 2012 Honda Stateline employs classically inspired features such as large, deep fenders and a healthy use of chrome. Riding on a suspension setup consisting of a 41-millimeter front fork and a single rear shock, the 2012 Honda Stateline also provides the stopping comfort of full disc braking. An optional anti-lock braking system can also be added to the 2012 Honda Stateline. Featuring Honda's Programmed Fuel Injection system and a three-valve dual-plug combustion chamber, the 2012 Honda Stateline's 1,312 cc V-twin engine is configured for powerful low-to-mid range performance. Gauges for the 2012 Honda Stateline are accented with a chrome housing on top of the motorcycle's fuel tank. A touring version of the 2012 Honda Stateline is sold as the Interstate.
Honda Note
VINTAGE - 1948-1958 Due to the rarity of these years and models of Honda, pricing data is still being collected.
PERSONAL WATERCRAFT - No longer in production.
2012 Note
All Goldwing prices include premium audio pkg.
In 2012 only curb weight was reported.