2012 Honda TRX420FEC FourTrax Rancher (4X4, Electric Start) Options, Equipment, and Prices
Select 2012 Honda TRX420FEC FourTrax Rancher (4X4, Electric Start) Options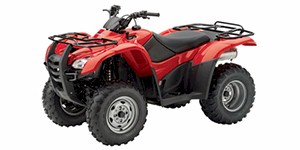 Fast Facts
A best-selling product in the Honda ATV line-up, the FourTrax Rancher™ continues to be a capable assortment of mid-range off-roading vehicles. Offered in two-wheel and four-wheel drive configurations, the 2012 Honda FourTrax Rancher™ line-up provides an aggressive sport utility appearance. Featuring a liquid-cooled 420 cc engine, the powerplant is influenced by an intelligent Programmed Fuel Injection system. Presenting a rider with two-wheel power, the base model 2012 Honda FourTrax Rancher™ presents front and rear payload racks as well as a suspension system permitting 6.3 inches of wheel travel. The two-wheel drive model of the 2012 Honda FourTrax Rancher™ can also be equipped with an electric shift program providing an operator more comfortable power transitions. Upgrading to four-wheel drive model featuring a TraxLok selectable 4WD/2WD system, the 2012 Honda FourTrax Rancher™ enjoys better trail handling capabilities. The electric shift program is optional on the 2012 Honda FourTrax Rancher™ 4x4 as is electric power steering. The 2012 Honda FourTrax Rancher™ AT model provides the ATV with a four-wheel independent suspension system. On all 2012 Honda FourTrax Rancher™ models, black wheels will accompany the Olive colored models.
Honda Note
VINTAGE - 1948-1958 Due to the rarity of these years and models of Honda, pricing data is still being collected.
PERSONAL WATERCRAFT - No longer in production.
2012 Note
All Goldwing prices include premium audio pkg.
In 2012 only curb weight was reported.