2012 Honda TRX400XC Options, Equipment, and Prices
Select 2012 Honda TRX400XC Options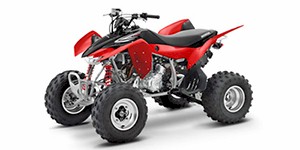 Fast Facts
Tailored to riders who simply want to spend a weekend off-roading for pleasure, the 2012 range of Honda TRX™ ATVs provide something for novice as well as expert operators to enjoy. Utilizing a steel chassis frame, the 2012 Honda TRX™ line is available in four trim levels. The entry-level machine in the 2012 Honda TRX™ model range, the TRX90X is a small-engined sport ATV with a big vehicle appearance. Propelled by a carbureted 86 cc four-stroke engine, the 2012 Honda TRX90X features a four-speed transmission, electric starter as well as front and rear drum brakes. An upgrade from the TRX90X, the 2012 Honda TRX250X is equipped with a more lively suspension system and front disc braking. Powered by an air-cooled overhead valve 229 cc engine, the 2012 Honda TRX250X's five-speed transmission includes a no-stall SportClutch. For 2012, the Honda TRX250X is provided with the grip of all-new Maxxis Razr Vantage tires. Featuring an all-new Black/Red color scheme, the 2012 Honda TRX400X is powered by a 397 cc engine featuring a Radial Four-Valve Combustion Chamber layout. A front independent suspension and an aluminum Pro-Link rear suspension unit provide a high level of wheel travel on the 2012 Honda TRX400X. Showa shock absorbers are found at the front and rear of the 2012 Honda TRX400X for excellent handling while traveling on harsh trails. A 450 cc engine featuring a Unicam cylinder head powers the top-of-the-line model in the Honda TRX™ line-up for 2012, the racing-bred TRX450R. An extensive use of aluminum is used on the 2012 Honda TRX450R for strength and weight-savings. The 2012 Honda TRX400X and TRX450R receive full disc braking for superior stopping power.
Honda Note
VINTAGE - 1948-1958 Due to the rarity of these years and models of Honda, pricing data is still being collected.
PERSONAL WATERCRAFT - No longer in production.
2012 Note
All Goldwing prices include premium audio pkg.
In 2012 only curb weight was reported.