2012 Honda ST1300AC ABS Options, Equipment, and Prices
Select 2012 Honda ST1300AC ABS Options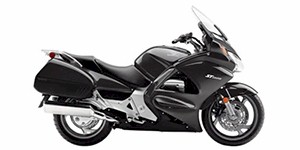 Fast Facts
The 2012 Honda ST1300 combines a performance hungry attitude with the demeanor of a touring motorcycle. Tailored for long trips, the 2012 Honda ST1300 features the built-in conveniences of a motor-driven adjustable windscreen and dual hard saddlebags. A ride furnished by 45-millimeter Honda Multi-Action System front fork cartridge and an adjustable single rear shock presents excellent handling for the 2012 Honda ST1300 during various types of travelling. Anti-lock braking system as well as a Combined Braking System is included with the Honda ST1300's front and rear disc brakes. The sport touring style motorcycle's power is derived from a 1,267 cc four-cylinder engine mated with a six-speed transmission. The 2012 Honda ST1300's double overhead cam engine employs Programmed Fuel Injection for sporty responsiveness and consistent fuel delivery. A 660-watt alternator is a high-output electrical unit that has also been ingeniously packed between the cylinder backs of the 2012 Honda ST1300's engine. Along with the saddlebags, a locking pocket as well as weather-resistant vinyl lid is found within the fairing of the 2012 Honda ST1300.
Honda Note
VINTAGE - 1948-1958 Due to the rarity of these years and models of Honda, pricing data is still being collected.
PERSONAL WATERCRAFT - No longer in production.
2012 Note
All Goldwing prices include premium audio pkg.
In 2012 only curb weight was reported.