2012 Honda NPS50C Ruckus Options, Equipment, and Prices
Select 2012 Honda NPS50C Ruckus Options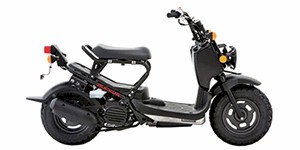 Fast Facts
The 2012 Honda Ruckus is suitable for rider demanding nothing but the essentials from a gasoline-powered scooter. Shaped using a two-piece, die-cast aluminum and steel frame, there is no bodywork concealing the 2012 Honda Ruckus` structure. A headlamp, taillights and a single person seat are only utilitarian details added to the 2012 Honda Ruckus frame. Coasting on 10-inch wheels within oversized tires, the ride of the 2012 Honda Ruckus is regulated by a twin-downtube fork front suspension and a single rear shock. Highly economical and backed by a proven company, the engine for the 2012 Honda Ruckus is a liquid-cooled 49 cc, single-cylinder four-stroke powerplant. An automatic V-Matic belt drive gearbox allows the 2012 Honda Ruckus`engine power to be delivered to the road. Without being weighed down by comfort and convenience features, the 2012 Honda Ruckus tips the scale at only 194 pounds. Due to the lightweight construction and a fuel-sipping engine, fuel economy for the 2012 Honda Ruckus is estimated at 114 miles per gallon. In addition to Black, the 2012 Honda Ruckus can now be ordered in a new White/Red combination.
Honda Note
VINTAGE - 1948-1958 Due to the rarity of these years and models of Honda, pricing data is still being collected.
PERSONAL WATERCRAFT - No longer in production.
2012 Note
All Goldwing prices include premium audio pkg.
In 2012 only curb weight was reported.