2012 Honda NC700XC Options, Equipment, and Prices
Select 2012 Honda NC700XC Options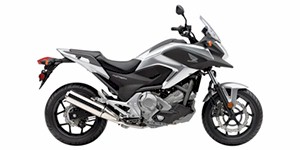 Fast Facts
An all-new motorcycle for 2012, the Honda NC700X is an interesting combination of cutting-edge technology and comfort for the modern rider. An adventure bike able to adapt to rough riding conditions, the 2012 Honda NC700X is constructed on a diamond-shaped steel frame with a long travel suspension system. The front 41-millimeter front fork of the 2012 Honda NC700X allows for 5.4 inches of wheel travel while the Pro-Link rear suspension provides 5.9 inches of travel. For weight distribution, the 3.7 gallon fuel tank is located securely under the seat. Bodywork is cutting-edge in design providing a low-profile windscreen and 17-inch cast aluminum wheels. With the altered position of the fuel tank, the rider of the 2012 Honda NC700X is in easy access of a 21-liter storage compartment. A two-cylinder 670 cc engine powers the 2012 Honda NC700X is the aid of a programmed fuel injection system. In addition to a standard six-speed manual gearbox, the 2012 Honda NC700X is also offered with a sophisticated dual-clutch transmission. Delivering the performance a manual gearbox, the six-speed dual-clutch transmission can provide rapid automatic shifting. If a rider desires, the 2012 Honda NC700X with a dual-clutch gearbox can also be operated like a conventional manual through shifting. The dual-clutch equipped model of the 2012 Honda NC700X is also equipped with an anti-lock braking system for improved stopping on the road.
Honda Note
VINTAGE - 1948-1958 Due to the rarity of these years and models of Honda, pricing data is still being collected.
PERSONAL WATERCRAFT - No longer in production.
2012 Note
All Goldwing prices include premium audio pkg.
In 2012 only curb weight was reported.