2012 Honda MUV700C Big Red Options, Equipment, and Prices
Select 2012 Honda MUV700C Big Red Options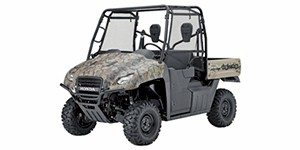 Fast Facts
The multi-purpose 2012 Honda Big Red utility vehicle is an exceptionally equipped side-by-side for ranch, off-road or jobsite travel. Greatly upgraded last year to be a more capable utility vehicle, the 2012 Honda Big Red presents itself with a wide stance and a 10.3-inch ground clearance. Operating with a selectable four-wheel drive system, the traction of Maxxis Big Horn tires provides the comfort and durability needed for handling off-road excursions. Automotive quality technologies such as four-wheel independent suspension, four-wheel hydraulic disc brakes and a hand-operated parking brake are also part of the mechanical gear found on the 2012 Honda Big Red. Propulsion for the 2012 Honda Big Red utility vehicle is supplied by a liquid-cooled 675 cc engine featuring a four-valve cylinder head and Programmed Fuel Injection. The 675 cc engine of the 2012 Honda Big Red is connected to an Electronic Control Module as well as a three-speed automatic transmission. Featuring a roomy and safe passenger area, the 2012 Honda Big Red's cargo capacity of 500 pounds is also good enough for many chores. Towing capacity for the 2012 Honda Big Red is rated at 1,500 pounds.
Honda Note
VINTAGE - 1948-1958 Due to the rarity of these years and models of Honda, pricing data is still being collected.
PERSONAL WATERCRAFT - No longer in production.
2012 Note
All Goldwing prices include premium audio pkg.
In 2012 only curb weight was reported.