2012 Honda GL18HPMC Goldwing Options, Equipment, and Prices
Select 2012 Honda GL18HPMC Goldwing Options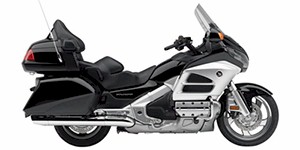 Fast Facts
A premium grade touring motorcycle, the 2012 Honda Gold Wing® is regarded as an innovator in modern highway riding. Heavily revised for the 2012 model year, the first change noticed on the Honda Gold Wing® is reworked styling. Constructed on the same aluminum frame on the previous year's version of the motorcycle, the improved bodywork of the 2012 Honda Gold Wing® consists of a redesigned fairing. Providing an additional 7 liters of storage capacity, the hard saddlebags onboard the 2012 Honda Gold Wing® cargo compartments can now hold an overall total of 150 liters. A 45mm cartridge fork on the front and a rear Pro Arm single-side swingarm with Pro-Link shock absorber allows the 2012 Honda Gold Wing® to provide a comfortable yet controlled ride with Bridgestone tires. Propelling the large mass that is the 2012 Honda Gold Wing®, a 1,832 cc flat-six engine featuring high-pressure Programmed Fuel Injection delivers all the power necessary for the motorcycle. Offered in four trim levels, all versions of the 2012 Honda Gold Wing® motorcycle come with lavish equipment. Higher-end 2012 Honda Gold Wing® models provides an anti-lock braking system, XM satellite radio and the industry's first motorcycle airbag.
Honda Note
VINTAGE - 1948-1958 Due to the rarity of these years and models of Honda, pricing data is still being collected.
PERSONAL WATERCRAFT - No longer in production.
2012 Note
All Goldwing prices include premium audio pkg.
In 2012 only curb weight was reported.