2012 Honda FSC600AC Silver Wing (ABS) Options, Equipment, and Prices
Select 2012 Honda FSC600AC Silver Wing (ABS) Options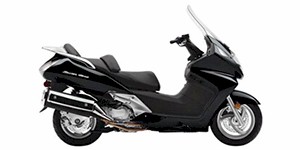 Fast Facts
Borrowing inspiration from the Honda Gold Wing touring motorcycle, the 2012 Honda Silver Wing® applies many of the same high-end characteristics to motor scooters. More expensive than some entry-level motorcycles, standard conveniences offered on the 2012 Honda Silver Wing® provides a premium sense of city commuting. A two-seat scooter shaped into an aerodynamically pleasing vehicle, the 2012 Honda Silver Wing® operates a suspension system consisting of a 41-millimeter front fork and dual rear shocks. Up to 4.5 inches of wheel travel provided with the 2012 Honda Silver Wing® allows the scooter to furnish a ride that can rival some cruising motorcycles. Full disc braking on the 2012 Honda Silver Wing® is accompanied with anti-lock braking and a combined braking system for impressive stopping power. A 582 cc two-cylinder engine provides performance for the 2012 Honda Silver Wing®. A Programmed Fuel Injection system is integrated with the four-stroke powerplant to provide an energetic 50 horsepower to the Silver Wing®. Presenting a two-up seating setup, the 2012 Honda Silver Wing® features a massive 55 liters of underseat storage.
Honda Note
VINTAGE - 1948-1958 Due to the rarity of these years and models of Honda, pricing data is still being collected.
PERSONAL WATERCRAFT - No longer in production.
2012 Note
All Goldwing prices include premium audio pkg.
In 2012 only curb weight was reported.