2012 Honda CRF100FC Options, Equipment, and Prices
Select 2012 Honda CRF100FC Options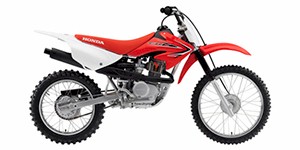 Fast Facts
Designed to handle the rigors of off-road and motocross competition, the 2012 Honda CRF® line of motorcycles provide a comprehensive range for almost every rider skill level. Suited for recreational or competition interests, the 2012 Honda CRF® motocross bikes all share the desire to conquer dirt tracks with four-stroke engine power. In addition to the R brand of motocross bikes, the 2012 Honda CRF® is also available in enduro style motorcycles under F and X designations. Directed towards the youth market, the 2012 Honda CRF50F, CRF70F and CRF80F offer a reliable basis for establishing fundamentals of trail riding. Engines range in displacement sizes of 49 cc to 80 cc on the youth-oriented 2012 Honda CRF® vehicles. Starting off with the CRF100F, the line of adult motocross bikes sold under the 2012 Honda CRF® banner features upgraded power and capabilities over the smaller engined models sold to younger riders. The Honda CRF150R, CRF150R Expert as well as the CRF250R model receives several engine improvements for 2012 upgrading the power and riding enjoyment. The suspension on the 2012 Honda CRF150R models also provides a greater level of adjustment. At the high end of the 2012 Honda CRF® line-up, a Unicam 449 cc engine powers the CRF450R and CRF450X. Dunlop tires, stiffer suspension and longer, wider footpegs have been added to the 2012 Honda CRF450X.
Honda Note
VINTAGE - 1948-1958 Due to the rarity of these years and models of Honda, pricing data is still being collected.
PERSONAL WATERCRAFT - No longer in production.
2012 Note
All Goldwing prices include premium audio pkg.
In 2012 only curb weight was reported.