2012 Honda CMX250CC Rebel Options, Equipment, and Prices
Select 2012 Honda CMX250CC Rebel Options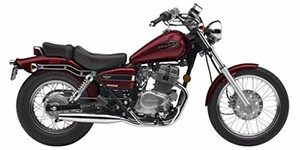 Fast Facts
Existing as a mainstay in Honda's motorcycle line-up for decades, the Honda Rebel® remains for 2012 as a popular, simple machine. The 2012 Honda Rebel® is an ideal motorcycle for beginner riders or budget-minded riders seeking a proven, easy to maintain motorcycle. Manufactured on a semi double cradle frame placing emphasis on allowing a 26.6-inch seat height, the 2012 Honda Rebel® adheres to an overall timeless motorcycle design. The suspension for the 2012 Honda Rebel® consists of a front hydraulic fork and an adjustable dual rear shock with rectangular-section swingarm. Power for the 2012 Honda Rebel® cans from a 234 cc two-cylinder, four-stroke engine running off a Kelhin carburetor. Thanks to a 331-pound overall weight, the 2012 Honda Rebel® can cruise comfortable while achieving fuel economy over 80 miles per gallon. Featuring a two-piece seat, a rider as well as a passenger can travel on-board the 2012 Honda Rebel® whether for a daily trip or a weekend adventure. Changes to the 2012 Honda Rebel® revolves around two new paint colors Matte Silver and Candy Red.
Honda Note
VINTAGE - 1948-1958 Due to the rarity of these years and models of Honda, pricing data is still being collected.
PERSONAL WATERCRAFT - No longer in production.
2012 Note
All Goldwing prices include premium audio pkg.
In 2012 only curb weight was reported.