2012 Honda CBR1000RRC Options, Equipment, and Prices
Select 2012 Honda CBR1000RRC Options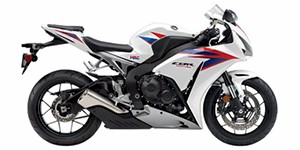 Fast Facts
A range of sport motorcycles, 2012 Honda CBR® line-up consists of entry-level to serious performance bikes. Sharing a customary sport bike appearance, the 2012 Honda CBR® is born to be ridden quickly. Fitted with full disc braking, the 2012 Honda CBR® line offers anti-lock braking as optional equipment. Enjoying its sophomore year of availability, the 2012 Honda CBR250R is an entry-level choice that features a considerate price to riders on a budget. Propelled by a 249.4 cc single-cylinder engine, the 2012 Honda CBR250R motorcycle provides a broad torque band and a high 10,500-rpm redline. A new White/Pearl color is now available on the 2012 Honda CBR250R joining two colors already offered. For the added adventure of four-cylinder power, the 2012 Honda CBR600RR is equipped with a 599 cc displacement engine incorporating Honda's Programmed Dual Stage Fuel Injection System. Featuring a MotoGP inspired Pro-Link rear suspension and steering damper, the 2012 Honda CBR600RR maintains a maximum weight of 434 pounds thanks to the use of die cast frame. The top-end performer in the Honda CBR® for 2012 remains the CBR1000RR model. This year, the Honda CBR1000RR is heavily revised with an all-new Showa supplied suspension, 12-spoke cast aluminum wheels and a multi-function LCD instrument display. The more capable 2012 Honda CBR1000R model runs on a liquid-cooled 999 cc inline four-cylinder engine. Fitted with a 9.7 airbox, the engine of the 2012 Honda CBR1000R receives a large enough of cool air aiding performance for the machine.
Honda Note
VINTAGE - 1948-1958 Due to the rarity of these years and models of Honda, pricing data is still being collected.
PERSONAL WATERCRAFT - No longer in production.
2012 Note
All Goldwing prices include premium audio pkg.
In 2012 only curb weight was reported.