2012 Honda CB1000RC Options, Equipment, and Prices
Select 2012 Honda CB1000RC Options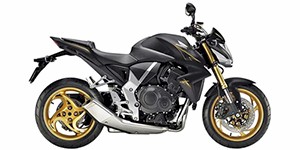 Fast Facts
Satisfying riders looking for a mid-range street fighter motorcycle, the 2012 Honda CB features a modern, aerodynamic design and impressive technology. Built on an aluminum frame made possible with gravity die-cast technology, the 2012 Honda CB is lightweight while receiving solid handling credentials. A 43-millimeter inverted fork front suspension can be adjusted while the rear ride comprises of a single shock. Large disc braking is found near the front and back cast aluminum wheels of the 2012 Honda CB providing useful stopping force on the streets. Consisting of only the CB1000R model for 2012, the Honda CB is propelled by a 998 cc, inline four-cylinder engine. The engine of the 2012 Honda CB1000R generates 123 horsepower and 74 pounds feet of torque of performance with a strong focus on low to mid-range power. A 16-valve powerplant derived from motorsports, the 2012 Honda CB1000R's engine features Programmed Fuel Injection that precisely mixes the air/fuel charge for riding and atmospheric conditions. The seating position of the 2012 Honda CB1000R provides comfort for long trips as well as compatibility for two passenger riding.
Honda Note
VINTAGE - 1948-1958 Due to the rarity of these years and models of Honda, pricing data is still being collected.
PERSONAL WATERCRAFT - No longer in production.
2012 Note
All Goldwing prices include premium audio pkg.
In 2012 only curb weight was reported.