2012 Harley-Davidson XR1200X Options, Equipment, and Prices
Select 2012 Harley-Davidson XR1200X Options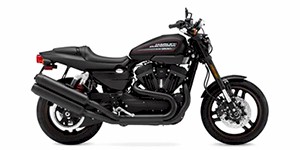 Fast Facts
The extensive 2012 Harley-Davidson Sportster® line provides riders with entry-level choice for a two-wheeled cruiser. Priced near-identically, the two entry-level motorcycles to the 2012 Harley-Davidson Sportster® consists of the SuperLow and the Iron 883. Both powered by the air-cooled, 883 cc Evolution engine featuring fuel injection, the 2012 Harley-Davidson Sportster® SuperLow is tailored towards easy handling while the Iron 883 is more stylized with fat tires and a drag handlebar assembly. Five addition models in the 2012 Harley-Davidson Sportster® line-up are powered by a larger displacement 1,200 cc V-twin engine. Similar in design to the Iron 883, the 2012 Harley-Davidson Sportster® Nightster features black laced wheels and a gray powdercoat treatment. For a wide front end and the freedom to create a motorcycle to personal tastes, the 2012 Harley-Davidson Sportster® 1200 Custom provides a connection to factory customization program. Inspired by racing, the 2012 Harley-Davidson Sportster® is presented with a completely blacked out appearance riding on a Showa suspension system. Drawing upon the influences of vintage motorcycles, the 1940s themed 2012 Harley-Davidson Sportster® Forty-Eight and the 1970s inspired Sportster® Seventy-Two incorporate retro styling touches.
Harley-Davidson Note
MOTORCYCLES/ATVS/UTILITY - Due to custom features such as chrome, paint, engine modifications, and market conditions, some values may increase by as much as 10%-30%.
VINTAGE - There are 5 condition grades for Harley-Davidson. There are many options that may affect the final value on Harley-Davidson motorcycles such as multi-speed transmissions, clutch assembly, electronics,engine options, dual brakes, side cars, etc. These options will be covered in upcoming editions. As you use this price guide for pre-1920 Harley-Davidson motorcycles, please keep in mind that some values indicated are based on the limited pricing data available. These prices will be updated as more data is collected. Your comments on the Harley-Davidson motorcycle values shown are very much welcomed.
2012 Note
Reported weight includes; oil, coolant, and battery.