2012 Harley-Davidson FLSTSE3 CVO Options, Equipment, and Prices
Select 2012 Harley-Davidson FLSTSE3 CVO Options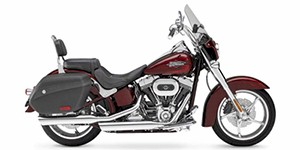 Fast Facts
Covering an extensive of 2012 Harley-Davidson motorcycles, the Softail® line captures a multitude of styling themes. Sharing the same air-cooled, 1,690 cc engine, the 2012 Harley-Davidson Softail® is propelled with the sophisticated effort of electronic fuel injection. Consisting of seven models in 2012, the Harley-Davidson Softail® receives a new entry-level version with the arrival of the Blackline. Featuring a low 26.1-inch seating position and a weight of just 638 pounds, the 2012 Harley-Davidson Softail® Blackline replicates the style of bobber motorcycles. The 2012 Harley-Davidson Softail® Blackline takes over the role of product line's lightweight bike through unseating the Softail Slim. The 2012 Harley-Davidson Softail® Slim still presents the lowest ground clearance of motorcycles in the line-up. Featuring fat tires and fenders, the 2012 Harley-Davidson Softail® Fat Boy exhibits bullet hole cast wheels and powder-coated black engine components. With a lowered suspension, the 2012 Harley-Davidson Softail® Fat Boy Lo offers a seating position 0.8 inches closer to the ground than the conventional Fat Boy. The 2012 Harley-Davidson Softail® is also treated to blacked out look with chrome deleted from the outer suspension fork and frame. 2012 Harley-Davidson Softail® models better suited for two-passenger cruising, the Deluxe and Heritage Softail® Classic project nostalgically driven designs. A windshield, saddlebags and a rear passenger backrest on the Heritage Softail® Classic model allows for effortless use as a touring bike. Dressed with components from Harley-Davidson's Custom Vehicle Operations, the 2012 CVO™ Softail® Convertible provides a premium styled version with a two-tone color combination.
Harley-Davidson Note
MOTORCYCLES/ATVS/UTILITY - Due to custom features such as chrome, paint, engine modifications, and market conditions, some values may increase by as much as 10%-30%.
VINTAGE - There are 5 condition grades for Harley-Davidson. There are many options that may affect the final value on Harley-Davidson motorcycles such as multi-speed transmissions, clutch assembly, electronics,engine options, dual brakes, side cars, etc. These options will be covered in upcoming editions. As you use this price guide for pre-1920 Harley-Davidson motorcycles, please keep in mind that some values indicated are based on the limited pricing data available. These prices will be updated as more data is collected. Your comments on the Harley-Davidson motorcycle values shown are very much welcomed.
2012 Note
Reported weight includes; oil, coolant, and battery.