2012 Harley-Davidson FLHTCUTG Triglide Ultra Classic Options, Equipment, and Prices
Select 2012 Harley-Davidson FLHTCUTG Triglide Ultra Classic Options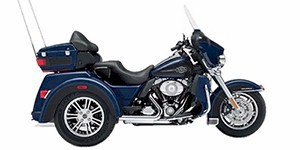 Fast Facts
The only product sold by Harley-Davidson to roll on more than two wheels, the 2012 Trike continues to attract the traditional and non-traditional motorcycle crowd. Configured as a touring vehicle fit for two passengers, the 2012 Harley-Davidson Trike sports a large front fairing and a large storage box. The 2012 Harley-Davidson Trike is equipped with dual disc brakes on the front and rear regulating the roll of black, 7-spoke cast aluminum wheels. The 2012 Harley-Davidson Trike is powered by an electronically fuel-injected, 1,690 cc Twin Cam 103 engine. Equipped with a six-speed transmission, the 2012 Harley-Davidson Trike also features an electric reverse. Offered only in a Tri Glide™ Ultra Classic® trim level in 2012, the Harley-Davidson Trike comes well loaded with standard convenience features. Cruise control, two-up seat with a large rear passenger backrest and a Harman/Kardon advanced audio system is included on the 2012 Harley-Davidson Trike.
Harley-Davidson Note
MOTORCYCLES/ATVS/UTILITY - Due to custom features such as chrome, paint, engine modifications, and market conditions, some values may increase by as much as 10%-30%.
VINTAGE - There are 5 condition grades for Harley-Davidson. There are many options that may affect the final value on Harley-Davidson motorcycles such as multi-speed transmissions, clutch assembly, electronics,engine options, dual brakes, side cars, etc. These options will be covered in upcoming editions. As you use this price guide for pre-1920 Harley-Davidson motorcycles, please keep in mind that some values indicated are based on the limited pricing data available. These prices will be updated as more data is collected. Your comments on the Harley-Davidson motorcycle values shown are very much welcomed.
2012 Note
Reported weight includes; oil, coolant, and battery.