2012 Arctic Cat 4X4-700 Automatic (Electronic Fuel Injection) Options, Equipment, and Prices
Select 2012 Arctic Cat 4X4-700 Automatic (Electronic Fuel Injection) Options
When shopping for a car, how important is vehicle performance?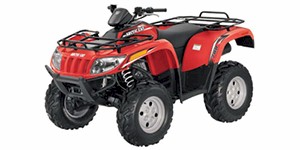 Fast Facts
A sizeable line-up of all-terrain vehicles, the 2012 Arctic Cat 700i model range presents products catering to almost every realm of interest for off-roading. Featuring an electronically fuel-injected, single overhead cam engine, the 695 cc displacement powerplant on the 2012 Arctic Cat 700i generates an abundance of horsepower and torque. Engine power is directed through a continuously variable transmission into the rider selectable four-wheel drive system. An electric differential lock on the 2012 Arctic Cat 700i models allows the wheels to obtain a firm grip traveling off-road. The 2012 Arctic Cat 700i riders on a fully independent suspension consisting of double A-arms on all four wheels providing up to 10 inches of travel. The Arctic Cat 700i line-up consists of eight variants for the 2012 model year. Starting with the base 2012 Arctic Cat 700i model, the next progression is the 700i GT that adds power steering and aluminum wheels. Adding aggressive front and rear bumpers as well as a winch, the 2012 Arctic Cat 700i LTD also features a distinctive Arctic Green Metallic paint color. The 2012 Arctic Cat 700i MudPro and 700i MudPro LTD are configured for traveling through deep mud. MudPro models of the 2012 Arctic Cat 700i feature three addition inches of ground clearance and includes thick tread 28-inch Maxxis Zilla tires. For increased comfort, the Arctic Cat 700i TRV GT and 700i TRV Cruiser trim levels add a 2-Up seat with rear passenger backrest. Featuring a rear cargo bed, the 2012 Arctic Cat 700i TBX GT allows an operator to more securely transport items such as loose topsoil.
Arctic Cat Note
SNOWMOBILES - Manufacturer will not release missing weight information. Contact manufacturer for weight specifications.