2013 Volkswagen GLI Reviews and Ratings
Sedan 4D GLI I4 Turbo Auto
NADAguides Consumer Review
Be the first to review this 2013 Volkswagen GLI.
Please complete all star ratings before submitting.
Type your review and click the Submit button
to post your comments
600 of 600 character remain
Thank you for submitting your review of the 2013 Volkswagen GLI
---
Expert Reviews ( 1 )
2013 Volkswagen GLI
NADAguides Test Drive Review
The performance oriented variant of the standard Jetta, the 2013 Volkswagen Jetta GLI is a comfortable and smooth compact car. The Jetta GLI, with its accessible price, offers the everyday consumer German craftsmanship, performance and safety, without breaking the bank.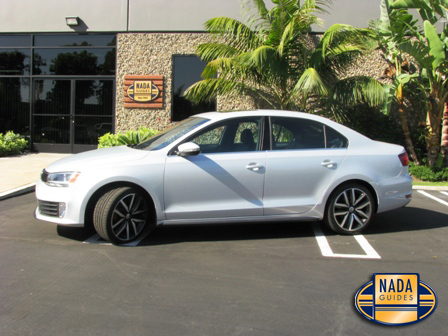 Exterior panels are tight and though the Jetta is not an unattractive vehicle, the overall design could stand to be modernized. Volkswagen offers standard exterior colors in the following shades: Candy White, Deep Black Metallic, Frost Silver Metallic, Platinum Gray Metallic, and Tornado Red.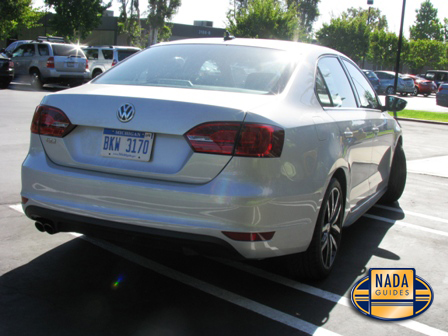 GLI has been synonymous with performance since 1984 but the modern Jetta GLI comes up short. Handling is sub-par, with weak cornering around sharp turns, and braking is less than stellar. Thankfully, acceleration is smooth and effective due to a 2.0-liter turbocharged I-4 that produces 210 hp and 207 lb-ft of torque. FWD is paired to a smooth-shifting 6-speed DSG automatic transmission to enable an estimated 23 mpg city and 33 mpg highway. Power is adequate but certainly nothing special for a performance oriented vehicle.
Attention to detail in the interior of the vehicle is average but the cabin design is ergonomically sound. The leather wrapped steering wheel adds a luxurious touch to balance the comfortable, but bland, seats. Thankfully, the vehicle is comfortable and roomy, with more than enough space in the front, rear and trunk.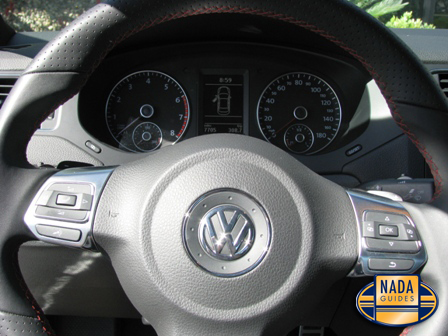 Features include automatic climate control, rearview camera, Bluetooth hands-free phone capabilities, power folding mirrors, heated front seats, keyless entry, optional keyless start, 6-speaker sound system and inside mounted spare tire 225/45R H. Safety is comprised of dual front airbags, dual side airbags, front head airbags, rear head airbags, emergency braking assist and roadside assistance for the first 3-years/36,000-miles.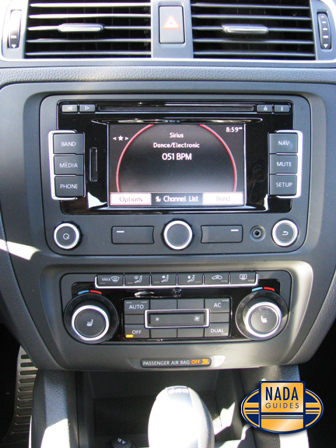 Like many other vehicles blind spots can be a problem, especially without a blind spot monitoring system. That being said, parking is a breeze, due to the Jetta GLI's size and a turning radius of 38.1 feet. Overall, the Jetta GLI feels like a safe ride, even at highway speeds, and though the vehicle isn't anything special, it makes for an adequate daily driver.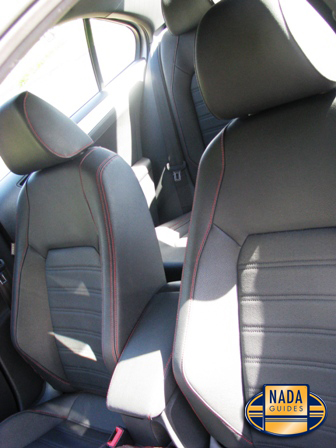 ---
Overall Quality
Not Available
Overall Quality - Mechanical
Powertrain Quality - Mechanical
Body & Interior Quality - Mechanical
Features & Accessories Quality - Mechanical
Powertrain Quality - Design
Body & Interior Quality - Design
Features & Accessories Quality - Design
---
Overall Dependability
Not Available
Body & Interior Dependability
Feature & Accessory Dependability
Search Local Cars for Sale
Car Buying and Selling Resources
---
* The J.D. Power Ratings are calculated based on the range between the car manufacturer or car model with the highest score and the car manufacturer or car model with the lowest score. J.D. Power generates a rating of a five, four, three, or two. If there is insufficient data to calculate a rating, "Not Available" is used in its place.
J.D. Power Ratings may not include all information used to determine J.D. Power awards, visit the Car Ratings page to learn more about awards and ratings.