2013 Volkswagen GTI Reviews and Ratings
Hatchback 4D 2.0T I4 Turbo
NADAguides Consumer Review
Be the first to review this 2013 Volkswagen GTI.
Please complete all star ratings before submitting.
Type your review and click the Submit button
to post your comments
600 of 600 character remain
Thank you for submitting your review of the 2013 Volkswagen GTI
---
Expert Reviews ( 1 )
2013 Volkswagen GTI
NADAguides Test Drive Review
Relatively unchanged for the current model year, the 2013 Volkswagen GTI carries on the sporting pedigree of the original "hot" hatch. Fun to drive, the GTI offers a light, well cornering, drive. Driving modes consist of a standard mode and sport mode with paddle shifters. Unfortunately, driving assistance features can be difficult to turn off, creating a slight disconnect between the driver and the vehicle.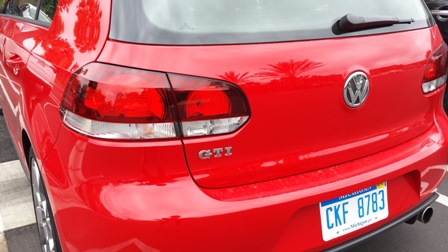 Exterior styling is sporty and clean, but maintains relatively similar to design of last year's model. That being said, all body panels fit well and tight lines make their way to the rear of the vehicle. Volkswagen opted for a plastic trim on the rear hatch, but other than that the overall bodystyle is made with high quality materials. Exterior colors are limited to five shades; Carbon Steel Gray Metallic, Deep Black Pearl Metallic, United Gray Metallic, Candy White, and Tornado Red.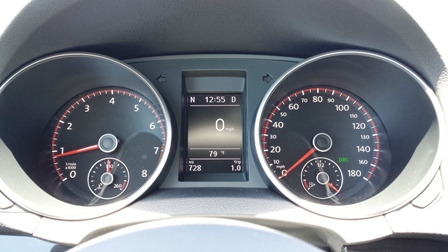 Under the hood drivers will find a 2.0-liter turbocharged 4-cylinder engine that yields 200 hp, for a 0-60 time of 7.5 seconds. The engine is mated to a 6-speed DSG (or standard 6-speed manual) transmission that delivers precise shifting for quick acceleration. Power is more than adequate but fades a bit after third gear, leaving the driver with an underwhelming sensation at higher speeds. Handling is phenomenal and vehicle braking exceeds expectations. Fuel economy is respectable at an EPA estimated 21 mpg city and 31 mpg highway.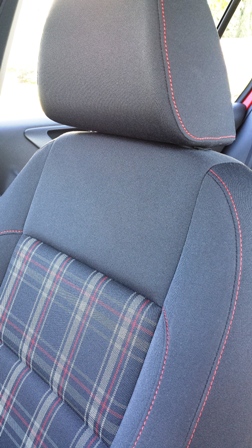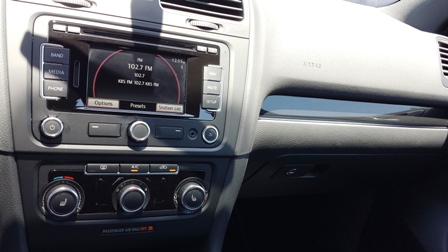 The interior of the GTI boasts the trademark plaid seats, a unique and attractive accent, but other plastic portions of the cockpit could be improved upon. All switches and dials operate smoothly and interior ergonomics are on point, as demonstrated by the sporty steering wheel and the substitution of traditional paddle shifters for easy to press buttons. The four-door trim level allows for easy access to the rear seats, and although seats are more than comfortable there is an apparent lack of legroom in both the front and back of the car. Trunk space is adequate but the rear seats do limit its size, a problem that shouldn't necessarily arise in a hatchback trim level.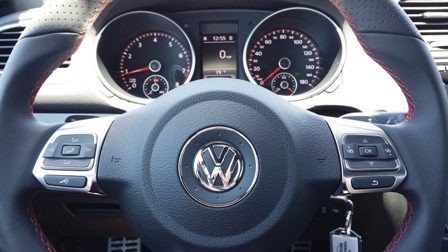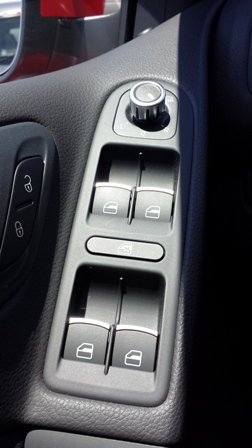 Features include dual-zone climate control, media center, Bluetooth capability with MP3 sync, tri-level heated front seats, sound system (lacking quality audio), steering wheel mounted controls, and a trunk lever that is disguised as the rear badge. The GTI feels safe while accelerating but the steering wheel can start shaking at highway speeds. It can be used as a daily driver due to its lack of blind spots, tight turning radius, and small body that makes parking a breeze. It's possible to re-live the glory of the first generation GTI in this modern version but the sporty suspension, known for inducing a tight grip, takes a bite of ride quality.
---
Overall Quality - Mechanical
Powertrain Quality - Mechanical
Body & Interior Quality - Mechanical
Features & Accessories Quality - Mechanical
Powertrain Quality - Design
Body & Interior Quality - Design
Features & Accessories Quality - Design
---
Overall Dependability
2 / 5
Body & Interior Dependability
Feature & Accessory Dependability
Search Local Cars for Sale
Car Buying and Selling Resources
---
* The J.D. Power Ratings are calculated based on the range between the car manufacturer or car model with the highest score and the car manufacturer or car model with the lowest score. J.D. Power generates a rating of a five, four, three, or two. If there is insufficient data to calculate a rating, "Not Available" is used in its place.
J.D. Power Ratings may not include all information used to determine J.D. Power awards, visit the Car Ratings page to learn more about awards and ratings.