2013 Mercedes-Benz S-Class Reviews and Ratings
Sedan 4D S350 BlueTec AWD
NADAguides Consumer Review
Be the first to review this 2013 Mercedes-Benz S-Class.
Please complete all star ratings before submitting.
Type your review and click the Submit button
to post your comments
600 of 600 character remain
Thank you for submitting your review of the 2013 Mercedes-Benz S-Class
---
Expert Reviews ( 1 )
2013 Mercedes-Benz S-Class
NADAguides Test Drive Review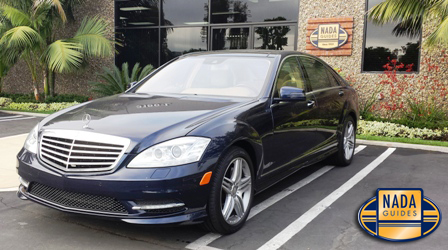 The 2013 Mercedes-Benz S400 Hybrid sedan fills the need in the Mercedes lineup for a fuel-efficient full-size sedan, without taking away from any of the fun-to-drive or convenient qualities that have helped build the S-Class name. Though a bit heavy, the weight of the S-Class delivers very safe feeling when driving at any speed, with little to no sway on turns or when cornering. Additionally, acceleration doesn't hinder handling and the weight is evenly distributed throughout the vehicle, granting a nimble feeling not found in other full-size vehicles. Always noted for superior ride quality, the 2013 S400 Hybrid does not disappoint due to the eradication of cabin noise and an AIRMATIC semi-active suspension that allows for a balanced ride controlled by air springs that adjust to driving conditions.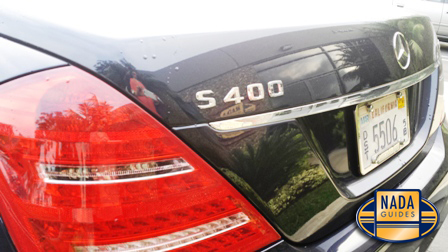 Sure to turn heads, the exterior design is sporty and luxurious, with sleek narrow lines and tight panels. Impressive 19-inch triple spoke AMG wheels provide a sporty element to the overall design, upping the aesthetic appeal. Exterior colors include Black, Magnetite Black Metallic, Jade Green Metallic, Andorite Grey Metallic, Barolo Red Metallic, Iridium Silver Metallic, Palladium Silver Metallic, Lunar Blue Metallic, and Diamond White Metallic.
Under the hood drivers will find a 3.5-liter V6 gasoline engine mated to an electric motor (linked to an ECO Start/Stop system that helps restore energy through braking) that produces 295 hp and 284 lb-ft of torque. Fuel mileage falls within an EPA estimated range of 19 mpg city to 25 mpg highway. Smooth acceleration and gear changes are made possible by the responsive 7-speed automatic transmission. Equipped with Adaptive Logic, the transmission adjusts shift points and ratios to a driver's particular driving style. Another driver-oriented feature is the Direct Steer System, a feature that adjusts the steering ratio based on how you turn the steering wheel, enabling turns to be made quickly and with light effort. S400 handling is as simple as it gets and vehicle power remains constant/smooth at both high and low speeds. Overall, performance is splendid, with the exception of brake sensitivity. The brakes are very difficult to get used to; a delay in brake response gives the driver an uncomfortable and unsafe feeling but drivers could get used to the distance between pushing the pedal and the actual brake reaction, depending on individual preference.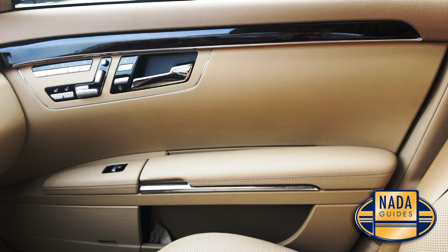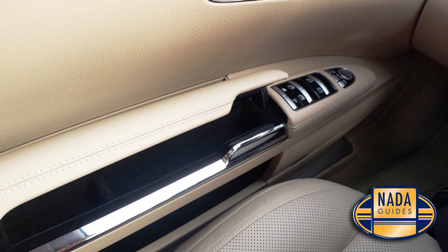 Interior design elements and engineering provide an elegant appearance, with materials made of the best quality premium leather and eucalyptus wood, or burl walnut wood, trim. Everything not only looks good, but provides premium comfort all around. Comfort is further accentuated by plenty of legroom, ventilated/heated seats, easy rear access, 12-way adjustable seating for front seats, and 8-way adjustable rear seats. Driver comfort is made possible by a steering wheel that sports a blend of leather and hand-polished wood, providing a perfect combination of sport and luxury. The multifunction steering wheel option allows the driver to heat up the steering wheel, control calls, audio volume and selections, and scroll through instrument menu. With the option to adjust the steering wheel with tilt telescope obstruction of panels is not an issue.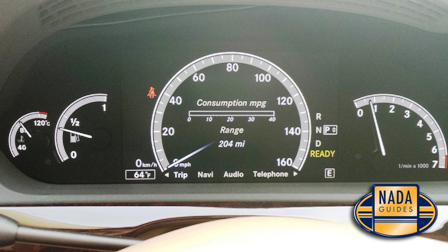 All controls and necessary buttons were arranged strategically and appropriately. One convenient feature that does not exist would be to have an option in the driver seat to control the rear side-window sun blinds from going up or down. That being said, every button has its place, is intuitive and works smoothly. The main menu control is narrowed down to just one central control that is conveniently placed at the end of the center armrest, making the entertainment menu easy to use. All systems and comfort adjustments are intuitive but the more advanced technology may be a bit overwhelming for people who are not technologically advanced, however with practice, it could be easy to get used to.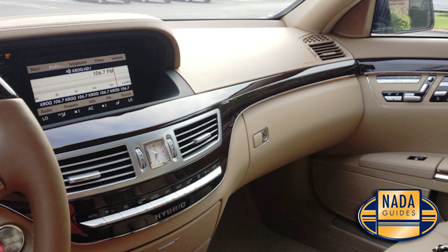 Interesting features include a Panorama roof, electronic trunk closer, noise-reducing infrared-reflecting glass, power rear side-window sun-blinds, active multi-contour front seats with massage options, Mercedes-Benz mbrace (an application that allows you to stay in touch with your car to help you remember where you parked, plan trips, get help by 24 hour support), and Nightview assist PLUS pedestrian detection (allows the detection of objects 500 feet ahead in total darkness including warm objects).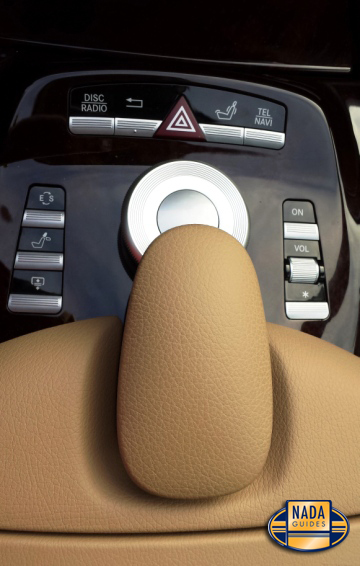 Other features include a wide angle backup camera with guidelines to help with rear parking and/or backing up, Bluetooth hands-free phone capabilities that automatically syncs upon entering the vehicle, rear seat entertainment system with dual source DVD, two sets of wireless headphones with two remote controls, KEYLESS-GO (which enables drivers to unlock, lock and start the vehicle without using the key), push button start/stop, Lane Keeping Assist (alerts the driver when it senses unintended drifting by vibrating the steering wheel), 8-inch LCD Widescreen with central controller and hidden numeric pad (enables driver or passenger to listen to audio, play video, make phone calls, and use navigation features), 6-disc changer with MP3, 24-hour roadside assistance, 6-months of free Sirius XM satellite radio, full-size spare tire, and last but not least a stunning Harman/Kardon LOGIC7 sound system - 600 watts, 15 speakers with Dolby Digital 5.1 surround sound technology and digital dynamic volume control (a separate premium option is offered; a Bang & Olufsen BeoSound system with 1200 total watts, 2 amplifiers, and 7.1 Digital Dolby surround sound).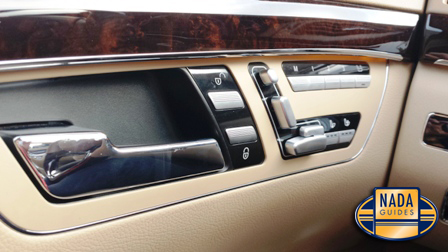 Though somewhat large, the S400 Hybrid doesn't provide any hassle in day-to-day driving. The PARKTRONIC system (with parking guidance) makes parking this long vehicle a breeze and the Advanced Parking Guidance assists the driver by using sensors in the bumper to determine if available spots can accommodate your vehicle while providing steering instructions to help you park your vehicle in that spot. The front and back sensors help to warn you with audible alerts if objects are near your bumpers. Blind Spot Assist virtually eliminates any and all blind spots and the turning radius is fairly good for a full-size sedan. A fun to drive, luxurious, and fuel-efficient vehicle, the S400 Hybrid covers all the bases, making every drive an enjoyable experience.
---
Overall Quality - Mechanical
Powertrain Quality - Mechanical
Body & Interior Quality - Mechanical
Features & Accessories Quality - Mechanical
Powertrain Quality - Design
Body & Interior Quality - Design
Features & Accessories Quality - Design
---
Overall Dependability
Not Available
Body & Interior Dependability
Feature & Accessory Dependability
Search Local Cars for Sale
Car Buying and Selling Resources
---
* The J.D. Power Ratings are calculated based on the range between the car manufacturer or car model with the highest score and the car manufacturer or car model with the lowest score. J.D. Power generates a rating of a five, four, three, or two. If there is insufficient data to calculate a rating, "Not Available" is used in its place.
J.D. Power Ratings may not include all information used to determine J.D. Power awards, visit the Car Ratings page to learn more about awards and ratings.