1 Reviews
Sort by:
Presently four new tires, and car is always checked by the Mercedes Dealer and serviced
Write a Review for the 2013 Mercedes-Benz M-Class
Expert Reviews
NADAguides Test Drive Review
powered by
The AMG identity infused onto a Mercedes-Benz product always invokes extra attention. Originally a separate performance tuning shop, AMG's history with Mercedes-Benz spans more than four decades. Since 1990, Mercedes-Benz has controlled AMG securing a consistent collaborative spirit that has created some exotic sedans, coupes and convertibles. The Mercedes-Benz SLS AMG supercar was the epitome of this German vehicle partnership. With the AMG badge applied throughout the Mercedes-Benz line-up, even the ML-Class crossover vehicle is deemed worthy of the high performance treatment. Introduced as a sizeable helping of engine power and handling, the 2013 Mercedes-Benz ML63 AMG supplies the premium marketplace with an incredibly versatile crossover vehicle.
Taking a quick look at the 2013 Mercedes-Benz ML63 AMG, some observers would be easily lured by the "wolf in sheep's clothing" appearance. Derived from the redesigned Mercedes-Benz M-Class crossover, the 2013 ML63 AMG maintains a sophisticated look promoting high quality luxury. Discreet details begin to emerge by looking at the Mercedes-Benz ML63 AMG with a more careful eye. Unique front air dam, rear apron and side skirts provide an ever so careful amount of AMG-inspired exterior definition. A headlamp system incorporating AMG-specific LED daytime running lights shine as a display of contemporary technology and style. Providing another form of glimmer, 20-inch AMG alloy wheels utilize a high sheen finish. Chrome accents on the 2013 Mercedes-Benz ML63 AMG are also used to highlight the "V8 BITURBO" badging and the twin exhaust pipes. The chrome details combined with the well-fitted body structure for the 2013 Mercedes-Benz ML63 AMG succeeds in providing a solid luxury presentation. Eleven exterior color shades can be chosen to coat the 2013 Mercedes-Benz ML63 AMG's body panels.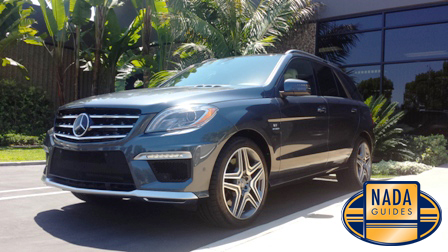 Sporting the credentials of a refined, performance crossover vehicle on the outside, the 2013 Mercedes-Benz ML63 features an interior that reinforces a sense of luxury and cautious aggression. The beautifully laid out cabin features high-grade materials such as ash wood trim. Featuring well-padded, power adjustable sport seats in the front, with heat and ventilation controls, makes long rides immediately comfortable inside the ML63 AMG crossover. Front and rear design leather seating is available in five color options. Designed for all-around comfort, the 2013 Mercedes-Benz ML63 AMG provides ample space for up to five passengers. Up to 80 cubic feet of cargo room is also available within the cabin when the rear seats would be folded in a 60/40 pattern.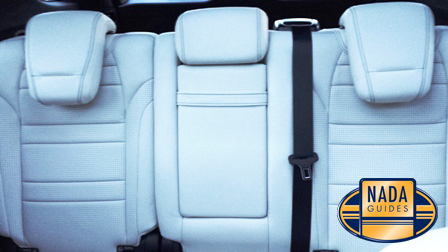 Luxury inside the German sport crossover vehicle is spotlighted by a packed infotainment system. Operating on Mercedes-Benz's Command system including a seven-inch color display screen, a central controller and steering-wheel mounted buttons provide access to entertainment, navigation and cockpit controls. In addition to satellite and conventional radio choices, the ML63 AMG's cabin pipes Harman/Kardon Logic7 audio that is stored on a 10-gigabtye Music Register, streamed music from devices or disc-changer. Dual-zone climate controls, heated steering wheel, a 115-volt power outlet and power liftgate are a few other standard conveniences found on the 2013 Mercedes-Benz ML63 AMG.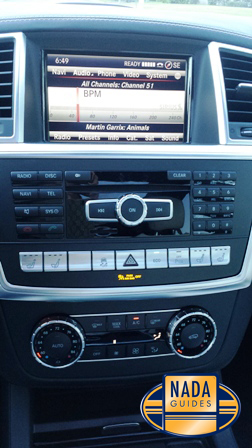 A 4Matic all-wheel drive system standard on the 2013 Mercedes-Benz ML63 AMG is the centerpiece for premium grade handling while driving under a variety of road conditions. Equipped with a special sport suspension, the 2013 Mercedes-Benz ML63 AMG aggressively maintains full contact with the road. The auto company's Active Curve System with AirMATIC self-levelling air suspension is also part of the ML63 AMG's handling array. The ultimate result of the 2013 Mercedes-Benz ML63 AMG crossover's suspension hardware is a well-planted ride with highly regulated cornering control. An Adaptive Damping System included on the 2013 ML63 AMG allowing a user to specify a Sport or Comfort mode. Both settings provide a competent luxury vehicle ride. In addition to traction control and a two-stage electronic stability program, the 2013 ML63 AMG remains safe at almost any driving speed. When it comes time to slow down, a high-performance set of perforated and ventilated disc brakes is the solid and consistent stopping force needed for a powerful crossover vehicle.
Residing as a high-performance powerplant, a 516-horsepower 5.5 liter V8 biturbo provides an exciting source for standard propulsion on the 2013 Mercedes-Benz ML63 AMG. The relatively new biturbo V8 engine is touted as a modern engine by the German automaker. Incorporating a twin turbocharger layout and direct injection, the new ML63 AMG can produce more horsepower than predeceasing Mercedes-Benz crossovers but achieves more respectable fuel mileage. With 0 to 60 mile per hour acceleration opportunities presented in just 4.7 seconds, the low-end punch coming from the 2013 Mercedes-Benz ML63 AMG's powerplant is accompanied by massive torque. An optional AMG Performance Package increases the 2013 Mercedes-Benz ML63 AMG's engine output to 550 horsepower for buyers seeking the upper limits of raw power. Apart from engine revs when accelerating, noise from the powerplant who not cause a commotion inside the cabin area.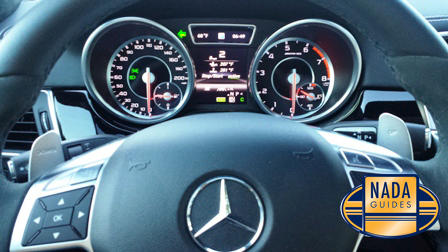 Aluminum paddle shift controls on the steering wheel allows the seven-speed automatic transmission to be manually operated. Harnessing the 518-horsepower machine, the driving experience also includes a host of intuitive aids as standard equipment. Parktronic with Active Parking Assist takes the chore out of parallel parking the 2013 Mercedes-Benz ML63 AMG. A rear-view camera system is in place for other parking or slow speed maneuvers. On the road, Mercedes-Benz collision avoidance technology such as blind spot assist and lane keeping assist puts emphasis on insuring incident-free motoring. If an accident does occur inside the 2013 Mercedes-Benz ML63 AMG, a nine-way airbag network will protect driver and passengers.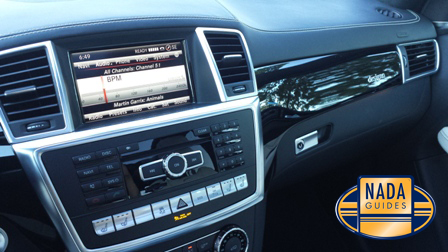 Operating as a high-tech sport vehicle, a premium ride and a practical hauler, the 2013 Mercedes-Benz ML63 AMG is an accomplished machine. However, base priced at $96,100 in dealerships, those accomplishments will be shared with an elite few.
/Cars/Compare-Cars?TrimIds=353633_0_407303
True
2013 Mercedes-Benz M-Class
907
Recommended Competitors
Recommended vehicles based on NADAguides.com audience feedback. The values listed below are based on MSRP and does not include any incentives, trade-in, options, or other adjustments.
This Vehicle