3 Reviews
Sort by:
This is my 3rd QX56 and I''ve loved every one of them. This 2013 has many safety features and the comfort of this vehicle is unsurpassed in any that I have been in. Despite its size its very nimble and has incredible power. I currently have 85000 miles and have no problems with it at all. I highly recommend the Infiniti QX56 or the QX80.
The Infiniti QX56 is large and in charge. If you are looking for a large or even large feeling SUV this is it for you. The MPG isn''t great and there is some roll of the vehicle in turns but the luxuries and comfort are all that you would expect from Infiniti. There is plenty of room for 5 adults and still room to haul all kinds of things in the back. Acceleration is a little lacking but what do you expect. This is a big boat but it definitely takes care of you.
The Infiniti QX56 AWD is beyond amazing. Infiniti definitely made comfort a priority. The technology features in the Infiniti QX56 are intelligent and intuitive. The navigation is easy to use and helpful. We take this vehicle on long road trips and receive nothing but compliments from our passengers. The AWD and Snow Mode are very useful when driving in the snow - we never have to use chains because the handling is excellent and the snow mode and 4WD can handle the conditions. This vehicle is above and beyond what we expected!
Write a Review for the 2013 INFINITI QX56
Expert Reviews
powered by
Introduction
The Infiniti QX56, now in its third year of this generation, is big, wide, and round. It rides among the seven-seat luxury SUVs with big towing capacities: Cadillac Escalade, Lincoln Navigator, Lexus LX 570, Mercedes-Benz GL-Class, Audi Q7, Volkswagen Toureg, and Range Rover.
Infiniti QX comes with rear-wheel drive or all-wheel drive with a five-mode system. The QX56 uses a powerful 5.6-liter, 32-valve, double overhead-cam V8 engine with direct fuel injection and variable valve timing and lift, making 400 horsepower and a big 413 foot-pounds of torque. The 7-speed double overdrive transmission enables good acceleration for the 5600-pound vehicle, and delivers 17 mpg fuel mileage at easy freeway speed, considerably less around town or over 70 mph. The transmission has adaptive shifting, matching a driver's style, and a manual mode that provides a sports car's downshift blip, something you don't find on every giant SUV.
The all-wheel-drive QX56 has a five-mode dial on the center console with automatic, four-wheel-drive high, four-wheel-drive low, low lock, tow mode and snow mode. The auto mode moves engine torque between the front and rear axles, from 0 front/100 rear to 50/50.
If the QX56 were to be described in a word, it would be big. The QX56 seats seven with second-row captain's chairs, or eight with a three-seat bench in the second row. Between the captain's chairs there's a gigantic console with two storage bins and two cupholders.
The 60/40 third row seat folds flat, with a power button located in the cargo space. Back in the third row there's good headroom and relatively good legroom, and the seats recline 20 degrees. There's 16.6 cubic feet of space with the third row up, an outer-space-like 95.1 cubic feet with both rows down.
The QX56 ride is firm but comfortable, with solid handling assisted by sophisticated electronics. It felt secure on icy highways.
The growling V8 is a satisfying engine, with 413 foot-pounds of torque at 4000 rpm. At lower rpm there's strong torque too. But it takes a lot of premium fuel for the engine to push the three-ton SUV down the highway. The QX56 is EPA-rated at 14/20 mpg City/Highway. The 7-speed transmission was a joy, smooth, like it wasn't even there. It has Adaptive Shift Control (ASC) and manual shift mode with Downshift Rev Matching.
Model Lineup
The 2013 Infiniti QX comes with rear-wheel drive ($60,750) or four-wheel drive ($63,850). Each uses a 5.6-liter V8 and 7-speed automatic transmission, with standard luxury and performance features including leather seats, hard drive voice-command navigation with weather, traffic, and restaurant guide, and 13-speaker Bose audio system with XM satellite radio, Bluetooth streaming audio and iPod compatibility. Also standard are 8-way power seats, dual-zone climate control, multi-function steering wheel, cruise control, and four 12-volt outlets. The standard seating configuration is two front bucket seats, two second-row bucket seats with a center console, and a three-place folding rear seat. Optional for the same price is a folding second-row bench seat that brings total seating to eight.
The Deluxe Touring Package ($4650) includes the Bose surround-sound system with 15 speakers, Hydraulic Body Motion Control system, climate-controlled front seats, semi-aniline leather seating surfaces, Mocha Burl trim, rear seat footwell lights, Advanced Climate Control System (ACCS), headlight washers and 22-inch wheels. The Theater Package ($3100) features dual 7-inch color monitors, two pairs of wireless headphones, wireless remote control, auxiliary inputs, 120V power outlet, heated rear seats, remote tip-up rear seats for easy third row access. The Split Bench Seat Package replaces the standard second row captain's chairs and center console with a 3-passenger bench seat with 60/40-split folding.
The Tire and Wheel Package ($2450) offers 22x8-inch 9-spoke forged aluminum-alloy wheel and 275/50R22 all-season tires. The Technology Package ($3000) offers Intelligent Cruise Control, Intelligent Brake Assist (IBA) with Forward Collision Warning (FCW), Distance Control Assist (DCA), Lane Departure Warning (LDW) and Lane Departure Prevention (LDP), Blind Spot Warning (BSW) and Blind Spot Intervention« (BSI), Front Pre-Crash Seat Belts, and Adaptive Front lighting System (AFS) with auto-leveling headlights.
Safety equipment includes frontal airbags, front side airbags, airbag curtains, front seat active head restraints, second row LATCH system, Vehicle Dynamic Control (VDC) with traction control, tire pressure monitor, and ABS with Brake Assist.
Walkaround
If the Infiniti QX56 were to be described in a word, it would be big. And bulbous; humped smoothly, at least at the hood and front fenders, although the headlights bulge sideways. In the rear, not so smooth. There, that one word might be ugly (we would be gentler, and say not particularly attractive, but that's three words). At the liftgate and taillights, the bulges and lines go everywhere, with two big slabs of chrome slapped on. The back end is cleaned up a bit by the rear bumper being integrated, and the tow hitch receiver being hidden behind a plate in the bumper.
The running boards are body-colored, as are splashguards built into the wheel arches. There's no chrome on the body sides like there used to be, except for the door handles, that's nice. The chrome outline around the window makes the QX56 look longer than it is, which is way long, more than 17 feet; however the C-pillar is triangular, turning the chromed window outline forward at the cargo area, so that makes it look like a smaller SUV, and not sleek. That chrome line matches the chrome line of the portholes on the front fenders, which are a nice touch, especially since the left porthole is functional, sucking in air for the engine.
Our QX was equipped with the optional 22-inch nine-spoke alloy wheels, which look better in pictures than real life. Standard wheels are 20-inch, and we'd prefer them. The massive grille is unmistakably Nissan/Infiniti, and the headlamps are stylishly angled up and away, bulging for style we guess. The big hood is like a hump, as are the front fenders. You really notice this from the driver's seat. All the time, and it's kind of nice. Your SUV is not lost in the crowd, at least from your point of view. The coefficient of drag is 0.36, good for a truck, and Infiniti says there is zero aerodynamic lift, thanks also to a front underbody spoiler and liftgate spoiler.
Interior
The Infiniti QX56 seats seven with second-row captain's chairs, or eight with a three-seat bench in the second row. Take your pick, same price, although most models in showrooms will be seven-seaters. There's leather galore, including the steering wheel, or premium leather with the Deluxe Touring Package.
The driver's seat is 10-way power adjustable and passenger seat eight-way; both have two-way power lumbar support. Heated seats in front is standard, cooled is optional.
The rear bench seat is also heated, but the captain's chairs aren't. Between the captain's chairs there's a gigantic console with two storage bins and two cupholders. They offer a generous 41 inches of legroom, and flip forward to access to the third row. It's an easy lever to pull, for anyone climbing in; still, a remote release button on the center stack and key fob is optional, allowing the driver to release it remotely.
There are a total of six grab handles, needed because it's such a tall climb into the front and rear, but there are none for the passengers climbing back to the third row. The captain's chairs don't lock when they're manually flipped, so they might wobble when the third-row passenger uses them for support climbing in.
Back in the third row there's good headroom and relatively good legroom, and the seats recline 20 degrees. There are three seatbelts, but we can't imagine. For 2013, Infiniti added perforation and stitching to the third row leather, to match the first and second rows, with the Deluxe Touring Package.
The 60/40 third row seat folds flat, with a power button located in the cargo space. There's 16.6 cubic feet of space with the third row up, an outer-space-like 95.1 cubic feet with both rows down. The space is as big as a queen bed. We mean it. We actually did carry a disassembled queen-sized bed and mattress back there; the mattress had to be bent just a bit to get it in, but then it fell pretty much flat. We had room for a short palm tree on the rear floor.
From the driver's seat, we liked the way-high seating position, and the clean gauges with luminescent white lighting. Clean graphics make instruments easy to read. Between the big tach and speedo there's a window with a small amount of digital information, though not enough: temperature, odometer and transmission gear. Far less expensive cars offer travel and fuel mileage here.
The QX56 travel and fuel information is on the 8-inch touch-screen at the top of the center stack. You have to reach way over there and select the info from the menu, a distraction that compromises safety while driving. Worse, the Back button on the touch-screen menu, which you use a lot because of all the trial and error, is located at the top right of the screen, the biggest stretch of all. We don't like it.
Another thing we don't like is that the radio can't be tuned while the car is moving. Seventy-eight thousand dollars for a car that makes you pull over and stop every time you want to change the radio station. Well, it could be tuned between satellite radio categories, and preset stations, but not to selected new stations. The Direct Tune button is blacked out on the radio while the car is moving. There might be a sly way around it, but it won't be easy and it should be.
We liked the voice in the navigation voice guidance, it sounded clear and intelligent. But on the screen itself, some things were too small to read, for example the speed limit sign, whose icon is about the size of a postage stamp. Also the numbers for miles to destination, and other things. Our passenger, a 14-year-old super geek named Zeke, took one look at the navigation display and the way its functions were accessed, and pronounced it outdated.
We didn't like the display for the rearview camera either. Infiniti brags about its 360-degree feature, but all we know is that even though we were paying close attention, we still backed (gently) into a pole one drizzly night, because the view didn't show the pole very well and the warning beep came too late. Our $3,000 Technology Package gave us MOD (Moving Object Detection), so maybe if the pole had been moving the camera would have seen it sooner.
Speaking of beeps, the car warned us of something, every time we parked and took the key out, and we have no idea why. Maybe it was telling us we were parking and taking the key out.
You might tell us to go read the manual. We tried. We always do. We've found that the more expensive the car, the thicker the manual; the thicker the manual, the more confused it is. It did tell us that there are nine cupholders and four bottle holders in the door pockets.
The dashboard is shaped like a huge arc, leaving no flat tray up there, but it looks okay. Our interior was two-tone leather, brown and wheat, and so was the dash, with Mocha Burl trim as part of our Deluxe Touring Package. The center console is a big wide well, only one compartment, because it slides forward a few inches for an ergonomic armrest. The classic Infiniti analog clock is harder to read than a digital.
Our $3100 Theater Package gave us two 7-inch color monitors and wireless headphones with remote control for DVD watching in the front headrests, and the $4650 Deluxe Touring Package provided the 15-speaker Bose Cabin Surround sound system. Back seat passengers can watch movies while front seat passengers can listen to music.
Driving Impressions
The QX56 has solid handling, with electronic assistance all over the place. We'll remember the night we drove into a winter storm warning and through Oregon's icy Columbia River Gorge, hauling that queen bed in the back, like a thief in the night. The QX56 made us feel confident and secure. At least once, the VDC saved us by correcting a slide. It was ahead of us, like it's supposed to be. With winter tires it might not have happened in the first place. The standard 20-inch all-season tires, slightly narrower, might be better on ice and snow than our optional 22-inchers, which cost $2450 on their nine-spoke alloy wheels.
We had the all-wheel-drive system set at Auto. Infiniti's All-Mode 4WD system has Auto, 4H and 4L modes. In Auto, up to 50 percent of the engine torque goes to the front wheels when needed for traction.
The torque and growl of the V8 is recognizably Nissan. We remember that feel from the Titan pickup truck. It's a satisfying engine, with 413 foot-pounds of torque at 4000 rpm. At lower rpm there's strong torque too.
The 5.6-liter 32-valve DOHC aluminum-alloy V8 features Infiniti's advanced VVEL (Variable Valve Event and Lift) technology and Direct Injection Gasoline (DIG) system. The VVEL system combines hydraulic-controlled variable valve timing and electronically controlled variable valve lift on the intake side to help improve performance and response. Throttle response is enhanced by directly controlling the intake valve, rather than using the traditional method of controlling intake with the throttle valve. The VVEL system also offers improved emissions and fuel efficiency (over non-variable valve designs) by reducing the intake resistance that occurs when the engine's throttle valve opening is narrowed and output is low.
The DIG direct-injection system provides better wide-open throttle performance and improved fuel economy and emissions performance (versus a non direct-injection system) by reducing engine knock, improving combustion stability and offering more precise injection control.
The powerful engine smoothly drives the whopping weight of the QX56, reaching three tons with driver. But when it does, you can't help thinking how much energy spelled g-a-s it takes. High-test gas. The QX56 is EPA rated at 14/20 mpg City/Highway; we got 17.1 mpg on the highway, most of it at a gentle 60 mph. Its greenhouse gas rating is an unimpressive 3 on a scale of 1 to 10, and its smog rating is a 5.
We have driven the QX56 for hours in a day-long rainstorm in Kentucky, so we know the brakes work when wet. The vented brake rotors are big, 13.8 inches. We like the feel of the pedal, and the solid anti-lock brakes, tested on snowy streets in Washington.
Electronic systems that take over stopping and steering the car are available. The Intelligent Braking System (Technology Package) uses sonar ranging to stop the QX56 without the driver's input as it approaches a stopped vehicle, and Distance Control Assist prompts the driver to release the throttle and applies the brakes in slowing traffic.
The QX56 also uses the brakes to take over the steering; the $3100 Technology Package also includes Lane Departure Prevention, which responds to potential unintended lane departure with a buzzer. If the driver doesn't obey the buzzer and steer back, the system applies the brakes on the opposite side of the alleged wander, forcing the car back. Here's the problem, in the fine print: the system turns potential into reality, which might be wrong. We've had it happen, although not in our QX56. The car fights the driver from doing what the driver knowingly with eyes-wide-open wants to do.
The 7-speed transmission was a joy, like it wasn't even there. Killer power and smooth transmission, our notes said. It's what you're always looking for. It has Adaptive Shift Control (ASC) and manual shift mode with Downshift Rev Matching (DRM).
The QX56 uses a rigid frame with thick side rails, and independent suspension. With the Deluxe Touring Package ($4650), ours had the Hydraulic Body Motion Control system. It's a closed hydraulic circuit that connects the shock absorbers and moves hydraulic pressure between them, to reduce body lean in corners. High-tech anti-sway bars.
The ride is firm but always comfortable. We would have liked the seats to grip more, or else be a bit softer; but after all, the QX56 is not exactly a driver's car. Wide flat seats probably make more sense, with many front-seat passengers (spelled parents) often turning to the rear.
Infiniti says that in the wind tunnel, the QX56 generates zero front and zero rear lift. Sounds great. The measurement is not something manufacturers include, and we wish we had the aerodynamic lift numbers from all the big SUVs, to compare.
Summary
The Infiniti QX56 has strengths and flaws, so we suggest careful comparison shopping in the luxury SUV category. Its strengths are powertrain, space and handling, while its flaws are mostly in touch-screen functions. Optional packages drive the price way up, and we don't think they're worth it.
Sam Moses filed this NewCarTestDrive.com report after his test drive of the QX56 in the Portland area.
Model as tested
Infiniti QX56 4WD ($63,750)
Basic Warranty
4 years/60,000 miles
Assembled in
Kyushu, Japan
Destination charge
990
Gas guzzler tax
N/A
Base Price
63750
Price as tested
78140
Options as tested
Theater package ($3100), Technology package ($3000), Deluxe Touring package ($4650), Tire and Wheel package ($2450), cargo mats, net and First Aid kit ($200)
Model Line Overview
Model lineup
Infiniti QX56 ($60,750); QX56 4WD ($63,850)
Safety equipment (standard)
front, side and three-row roof airbags, ABS, traction control, yaw control
Safety equipment (optional)
N/A
Engines
5.6-liter dohc 32-valve V8
Transmissions
7-speed automatic
Specifications as Tested
leather seating and trim, 8-way power seats, dual-zone climate control, multi-function steering wheel, power windows, mirrors, and locks, cruise control, four 12-volt power points, hard-drive navigation system, XM NavWeather, XM NavTraffic, Zagat Survey restaurant guide, voice activation, Bose 13-speaker AM/FM/CD/DVD/MP3 sound system with XM satellite radio, Bluetooth streaming audio, AUX plug, and iPod compatibility
Engine & Transmission
Engine
5.6-liter dohc 32-valve V8
Drivetrain type
four-wheel drive
Horsepower (hp @ rpm)
400 @ 5800
Transmission
EPA fuel economy, city/hwy
14/20
Torque (lb.-ft. @ rpm)
N/A
Suspension
Brakes, front/rear
vented disc/vented disc with ABS, EBD, Brake Assist
Suspension, front
independent, double wishbone, twin-tube shock absorbers
Tires
P275/50R22
Suspension, rear
independent, double wishbone, twin-tube shock absorbers
Accomodations
Seating capacity
7
Head/hip/leg room, middle
40.0/63.5/41.0
Head/hip/leg room, front
39.9/63.8/39.6
Head/hip/leg room, rear
36.4/60.5/28.3
Measurements
Fuel capacity
N/A
Trunk volume
95.1
Wheelbase
121.1
Length/width/height
208.3/7.9/75.6
Turning circle
41.0
Payload
N/A
Towing capacity
8500
Track, front/rear
67.5/67.9
Ground clearance
10.2
Curb weight
5850
NADAguides Test Drive Review
powered by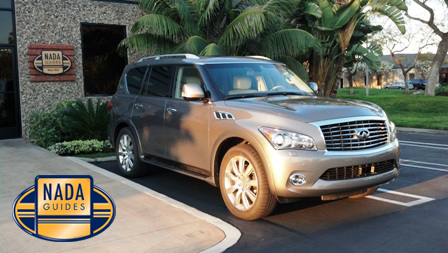 A full-size SUV made by Nissan's luxury brand Infiniti, the 2013 QX56 is noted for being the first Infiniti vehicle built in the United States. Refined for a vehicle of its size, the QX56 is equipped with Hydraulic Body Motion Control that takes the power and size of the vehicle and distributes variable pressure to the inner/outer suspension producing a comfortable and smooth ride. The lack of cabin noise provides excellent ride quality at all speeds. Infiniti engineered the QX56 to handle all road conditions, all weather, at all speeds so no matter the condition, you always feel safe and in control.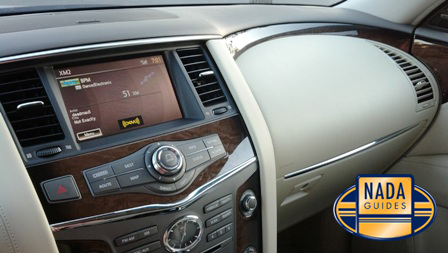 The exterior design is sleek with tight lines. The finish gives the illusion of glazed satin and the hints of chrome are not overdone. Being a larger vehicle makes it tough to appear powerful but luxurious - however, Infiniti has absolutely nailed the perfect balance. Slanted slim headlights and rear taillights keep it looking elegant; while fit panels give the exterior a quality feel. Exterior colors are comprised of Moonlight White, Liquid Platinum, Platinum Graphite, Black Obsidian, Dark Currant, and Smoky Quartz.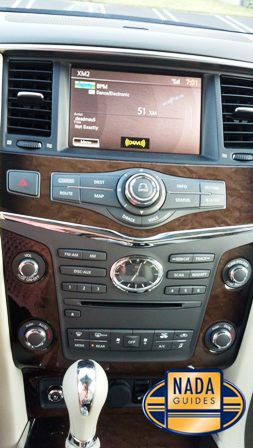 Under the hood drivers will find a 5.6-liter V8 engine, with VVEL and DIG, that produces 400 hp and 413 lb-ft torque. This massive power, combined with luxury comfort, provides a high quality driving experience. No noticeable jerk is present when accelerating, giving the QX56 class-leading smoothness. Fuel economy is less than desirable with an EPA estimated 14 mpg city and 20 mpg highway. A 7-speed automatic transmission with Adaptive Shift Control and manual shift mode, with Downshift Rev Matching, ensures smooth and accurate shifts. Very comfortable to handle, engineering and features have all come together to make this vehicle easy to drive with superb responsiveness. Performance features consist of 4-wheel Anti-lock Braking System and Electronic Brake Force Distribution, as well as Intelligent Brake Assist with Forward Collision Warning. The FCW system has a laser range finder which helps alert the driver of a potential accident with a visual and audible alert and the Brake Assist will engage automatically if the driver does not respond to the Collision Warning alert by reducing the speed of the vehicle.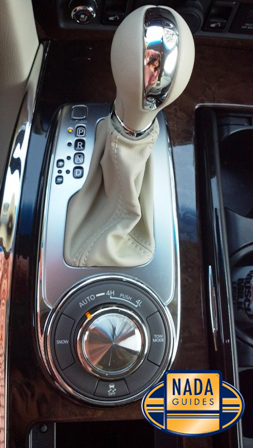 The design and engineering of the interior is crafted with elegance and luxury in mind. Wood trim accents and soft treated leather that surround the cabin make the driver forget they're in a SUV. Everything is clean, no clutter, with careful consideration given to designing the panels, controls and media center. In similar vehicles it's easy to place things in a way that would be difficult to reach but Infiniti has developed an ergonomically friendly interior. Power tilt/telescopic steering column makes adjusting the steering wheel a breeze and having the option to adjust it away and towards your body is an added bonus. The steering column doesn't obstruct any necessary displays and has a comfortable grip.
An option for captain seats in the second row makes the third row very accessible and there is more than enough room for second and third row passengers. The vehicle is not only wide but tall, with plenty of head room and leg room. Even with the third row of seats, trunk space is plentiful and becomes ever more useful with the third row seats folded down for extra cargo space.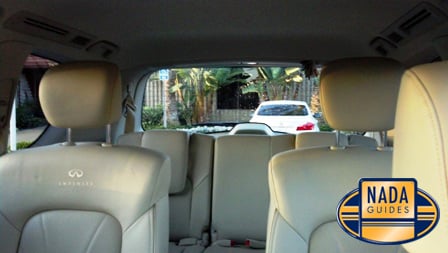 Interesting features include 10-way heated driver's seat, nine cup holders, four bottle holders (perfect for road trips), Tri-Zone Automatic Temperature Control system with air filter, Remote Engine Start System, Enhanced Control (helps correct over-steer or under-steer by applying brake pressure and adjusting power output of the car), Infiniti Connection (phone app acts as your personal assistant with destination assistance, Google calendar and more). Other features include Around View Monitor (a virtual 360 degree birds-eye view of the vehicle, hands-free Bluetooth capability, a theater package with dual 7-inch color monitors and wireless headphones/remote, headed front/second row seats, Intelligent Key that allows the driver to unlock the door by touching handle and start the vehicle with the key in a bag or pocket, lane departure prevention, Infiniti Hard Drive Navigation, 24-hour roadside assistance, power liftgate, and a 15-speaker Bose Cabin Surround Sound Audio System with two subwoofers.
Built for all driving conditions, loaded with entertainment features, boasting comfort, quality and luxury beyond any other full size SUV - the QX56 is not only fun to drive but addicting, making road trips or day-to-day driving an unforgettable experience.
/Cars/Compare-Cars?TrimIds=354753_0_410619
True
Recommended Competitors
Recommended vehicles based on NADAguides.com audience feedback. The values listed below are based on MSRP and does not include any incentives, trade-in, options, or other adjustments.
This Vehicle