Consumer Reviews
Be the first to write a review for the 2013 Audi S7
Write a Review for the 2013 Audi S7
Expert Reviews
NADAguides Test Drive Review
powered by
The newest phenomenon on the premium luxury car is a fusion between two body styles. Crossover vehicles (utility all-wheel drive vehicles incorporating a car-like ride) have progressed to a stage where almost every luxury carmaker has one in their line-up. In 2006, the term coupe became redefined through the introduction of vehicles like the Maserati Quattroporte and the Mercedes CLS-Class. Delivering bold, sport-geared styling deeply differing from a sport sedan, the term four-door coupe demonstrated how pure performance derived motoring was not limited to the ternary of two doors. In 2011, it was Audi's turn to debut a segment-crossing model. Marrying a performance and agility of a sport coupe with the practical nature of a hatchback, the Audi S7 Sportback was born. For the 2013 model year, a higher performing version called the Audi S7 Sportback strengthens the radically styled five-door coupe with greater power and handling credentials.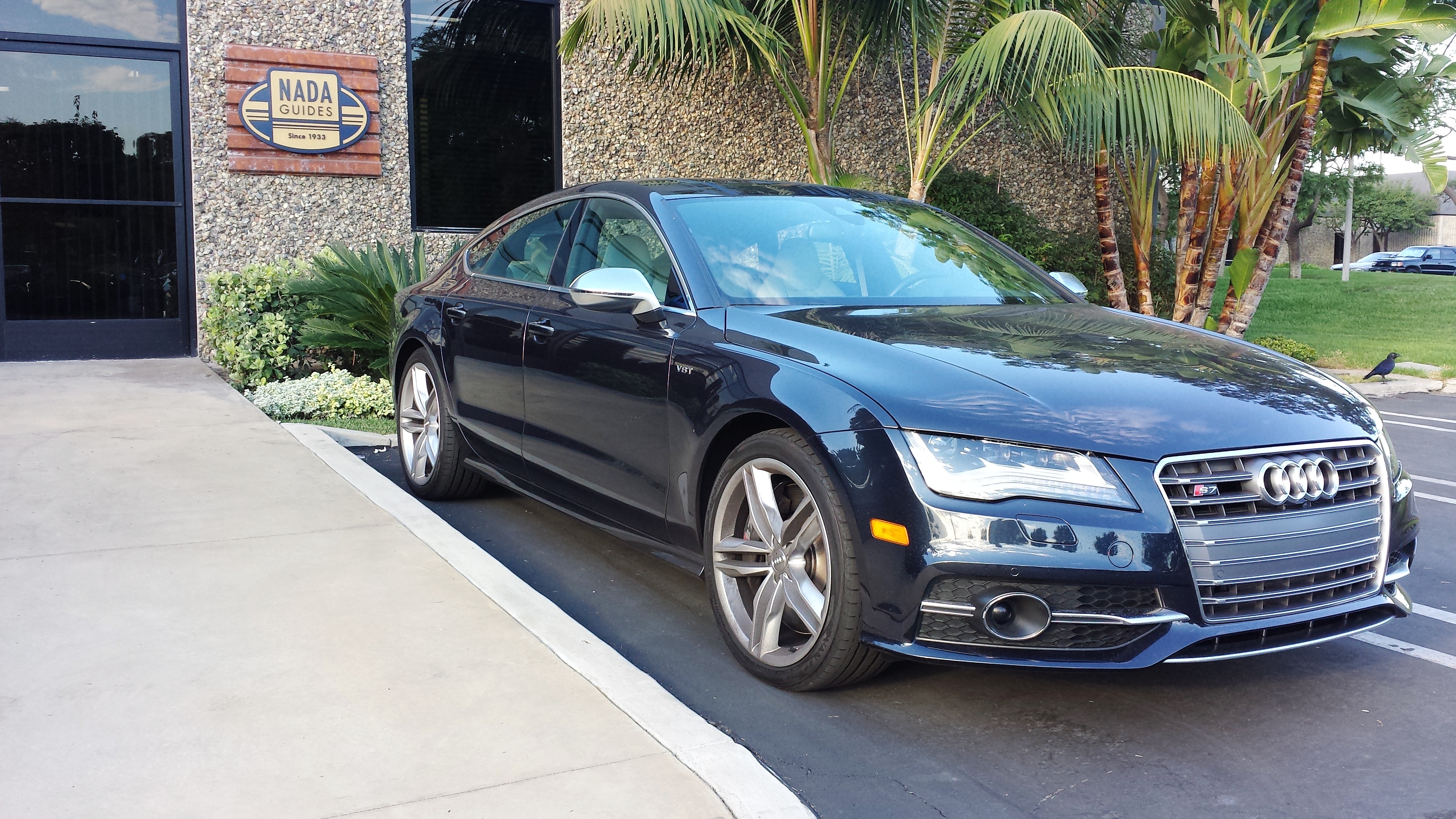 Is the 2013 Audi S7 Sportback a sedan, a coupe or a hatchback? The design of the S7 Sportback is meant to blur the lines between conventional body styles. A sporty appearance incorporating some muscular styling traits, the 2013 Audi S7 Sportback features body construction consisting of aluminum and high-strength steel. Invoking a distinct European favor, the Audi S7 Sportback's long hood as well as its smooth angled roofline is well proportioned as a fusion for two vehicle themes. The German auto company has taken care to make sure panels and doors blend tightly for a high quality build. Compared to the Audi A7 Sportback, the S7 model's look is enriched by a unique grille treatment, a lower front blade trim piece, black painted brake calipers and a platinum gray colored rear diffuser. The Audi S7 Sportback is also given a 0.39-inch lower stature thanks to a standard sport air suspension. The 2013 Audi S7 Sportback is available in a variety of 10 factory colors.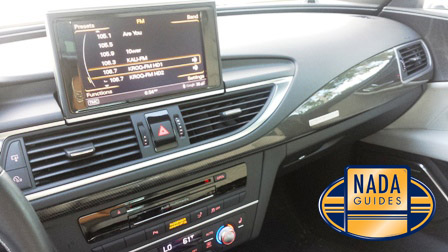 A potent upgrade over the 3.0 liter TFSI V-6 engine equipped on the lower-level A7 Sportback, the Audi S7 Sportback's eight-cylinder 4.0 liter TFSI generates 420 horsepower. Delivering 406 pounds feet of torque, the S7 Sportback's TFSI V-8 engine is powerful when necessary furnishing 0 to 60-mile per hour acceleration times of 4.5 seconds. Through highway running, cylinder deactivation on the Audi S7 Sportback allows the vehicle to run fuel efficiently on four cylinders. Intelligent engine management technology and an active noise control system, the Audi cylinder on demand operates near seamlessly.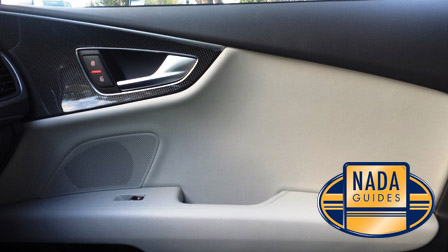 When the 420 horsepower is sent through the seven-speed S tronic transmission, the 2013 Audi S7 Sportback applies the power through the aid of the German auto company's famed quattro all-wheel drive. The S7 Sportback receives a more athletic version of Audi's quattro all-wheel drive system featuring sport differential allowing for mechanical torque vectoring. The result is a highly responsive vehicle layout that cleverly distributes the power to the needed wheels. Combined with the ride provided through the sport air suspension, handling is very sharp and projects a safe, confident feeling for the driver managing the S7 Sportback's controls. The S7 Sportback's sport-oriented suspension setup provides only a faint but acceptable rumble of road noise for occupants riding inside the luxury vehicle. Anti-lock braking, electronic brake distribution and an electronic stability control system are standard on the 2013 Audi S7 Sportback. Even though the S7 Sportback's S tronic transmission is designed to operate automatically, a manual shift mode program built into the gearbox provides a more immersive driving experience.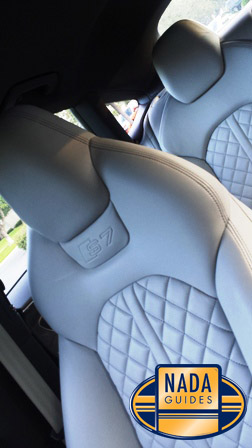 Finished in either Black or a Lunar Silver shade, the cabin area of the 2013 Audi S7 Sportback is filled with high quality materials. Valcona leather seating provides a plush but firm riding experience for occupants. Designed for four passengers, the S7 Sportback's features a diamond stitch pattern that ordinates nicely with carbon fiver inlays. At the front, 12-way power adjustable seats include a four-way power lumber support system. Those front seats prove extremely comfortable for long rides or a routine day-to-day trip. The rear seating area of the 2013 Audi S7 Sportback is actually quite comfortable for two adults. The rear seat design does not have a center passenger but that aspect seems to work to the benefit of the S7 Sportback's overall comfort by not creating the customary tight squeeze with a third person in the back row. The S7 has a generous storage compartment, heated front seats and a tri-zone automatic climate control system with separate rear passenger row controls provide occupants of the Audi S7 Sportback with a paradise at a desirable temperature.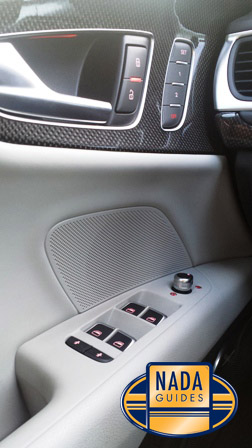 Blind spots are not much of a problem with the 2013 Audi S7 Sportback. Credit is given to a standard back-up camera as well as an optional Cornerview camera system supplying an extra level of confidence in negotiating tight spaces. For speeds over 19 miles per hour, the available Audi side assist notifies when an object or other vehicle is within the S7 Sportback's blind spot through orange lights in the side mirrors. An eight-color driver information system provides displays for on-road as well as in-car developments while steering wheel controls allows for quick and safe adjustments. In the center of the Audi S7 Sportback's dash panel, standard Audi MMI Navigation plus operates from an eight-inch touchscreen. Audi connect featuring Google Earth 3D navigation technology supplies accurate information for traveling. The Audi MMI Navigation plus system also comes with a full array of audio entertainment options that includes a stable Bluetooth streaming audio system. SiriusXM Satellite Radio and HD Radio are both standard on the S7 Sportback. When the Audi S7 Sportback's infotainment array is turned on, rich quality audio pulsates from a 630-watt, 14-speaker Bose Premium Surround Sound system with a subwoofer.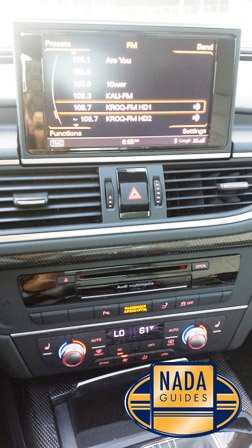 After a year on the market, the Audi S7 Sportback is already been superseded in performance by the RS7 Sportback. However, for a well-rounded combination of luxury and power from a rather exotic looking five-door coupe, the S7 Sportback delivers a rewarding ownership experience worth its premium price tag.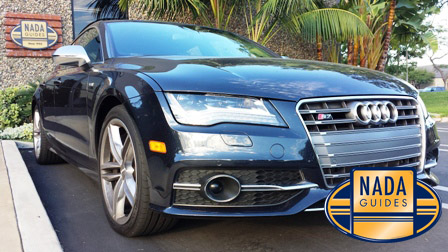 /Cars/Compare-Cars?TrimIds=350776_0_406528
True
Recommended Competitors
Recommended vehicles based on NADAguides.com audience feedback. The values listed below are based on MSRP and does not include any incentives, trade-in, options, or other adjustments.
This Vehicle