4 Reviews
Sort by:
We went from a family of two to a family of four within two years. We bought this car for our growing family. We don''t use the third row yet but it can be folded down and makes alot of cargo room. There is plenty of leg room in the front and middle row of seats. My husband is 6''2" and that was important that he be able to get in and out of any seat easily. The cx-9 is a smooth ride that handles like a car. My only complaint is that I got a black vehicle and it gets dirty so fast I wish I would have gotten white exterior. I love the heated seats and the back up camera. Overall I love my Mazda
Great car for handling and acceleration. very comfortable interior. Guzzles gas somewhat but not as bad as some cars. If third row seat used there is still room left for some bags or groceries. if third row not used often lots of room for groceries etc. Love this car. I have owned Land Rovers and Toyota and Jeep and this is my favorite so far!!!!
Write a Review for the 2012 Mazda CX-9
Expert Reviews
NADAguides Test Drive Review
powered by
A full size crossover, the 2012
Mazda CX-9
was originally introduced in 2007, featuring luxury options like DVD entertainment system, navigation, and premium sound. Since its introduction to the U.S. market the CX-9 has been aesthetically altered once in 2010, receiving a new front grille, giving the car a more modernized look. Built on the same CD3 platform as the Ford Edge, the CX-9 is available with both FWD and AWD drivetrains.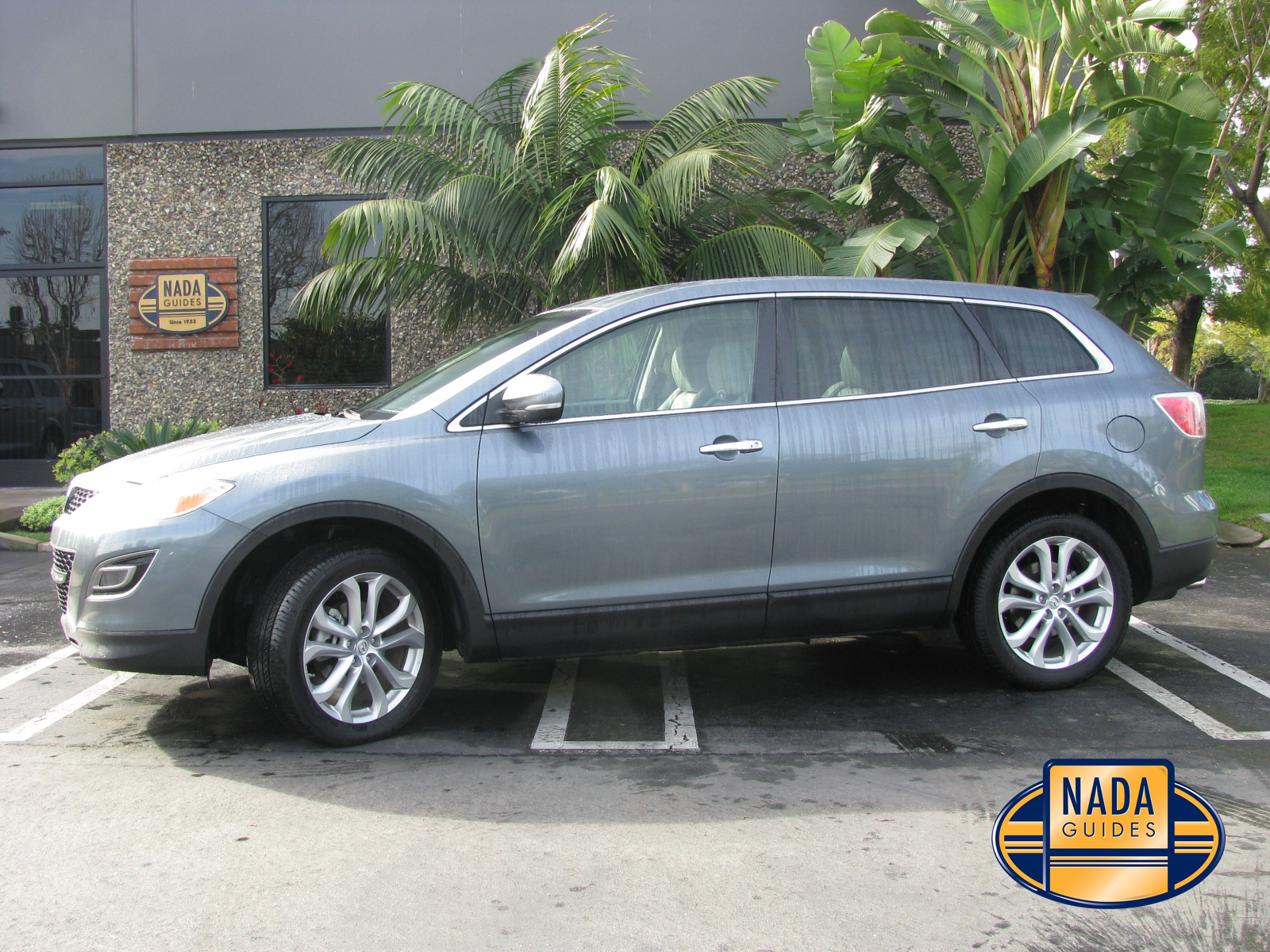 The CX-9 captures the eye thanks to a sleek, sporty design. Smooth lines are accented with chrome trim to give the exterior a luxurious flair. All panels are tightly blended together and made of sturdy metals.. Exterior colors include Brilliant Black, Crystal White Pearl, Copper Red Mica, Stormy Blue Mica, Liquid Silver Metallic, and Dolphin Grey Mica.
The 2012 Mazda CX-9 AWD Grand Touring is powered by a 3.7-liter V6 engine that yields 272 hp and 270 lb-ft of torque. Equipped with AWD, featuring Active Torque Split, the CX-9 finds a nice balance between power and fuel efficiency. A 6-speed sport automatic transmission with manual-shift option offers the versatility of both automatic and manual transmissions, allowing for extremely smooth shifting with proper timing in between gears. Enhanced stability and control combined with the power-assisted rack-and-pinion steering system helps maintain vehicle control, making the CX-9 very easy to handle. In all conditions the driver is left with a superior sense of control thanks to 4-channel electronic brakeforce distribution and brake assist, both of which contribute to smooth braking quality. Fuel efficiency is a competitive 18 city/26 highway.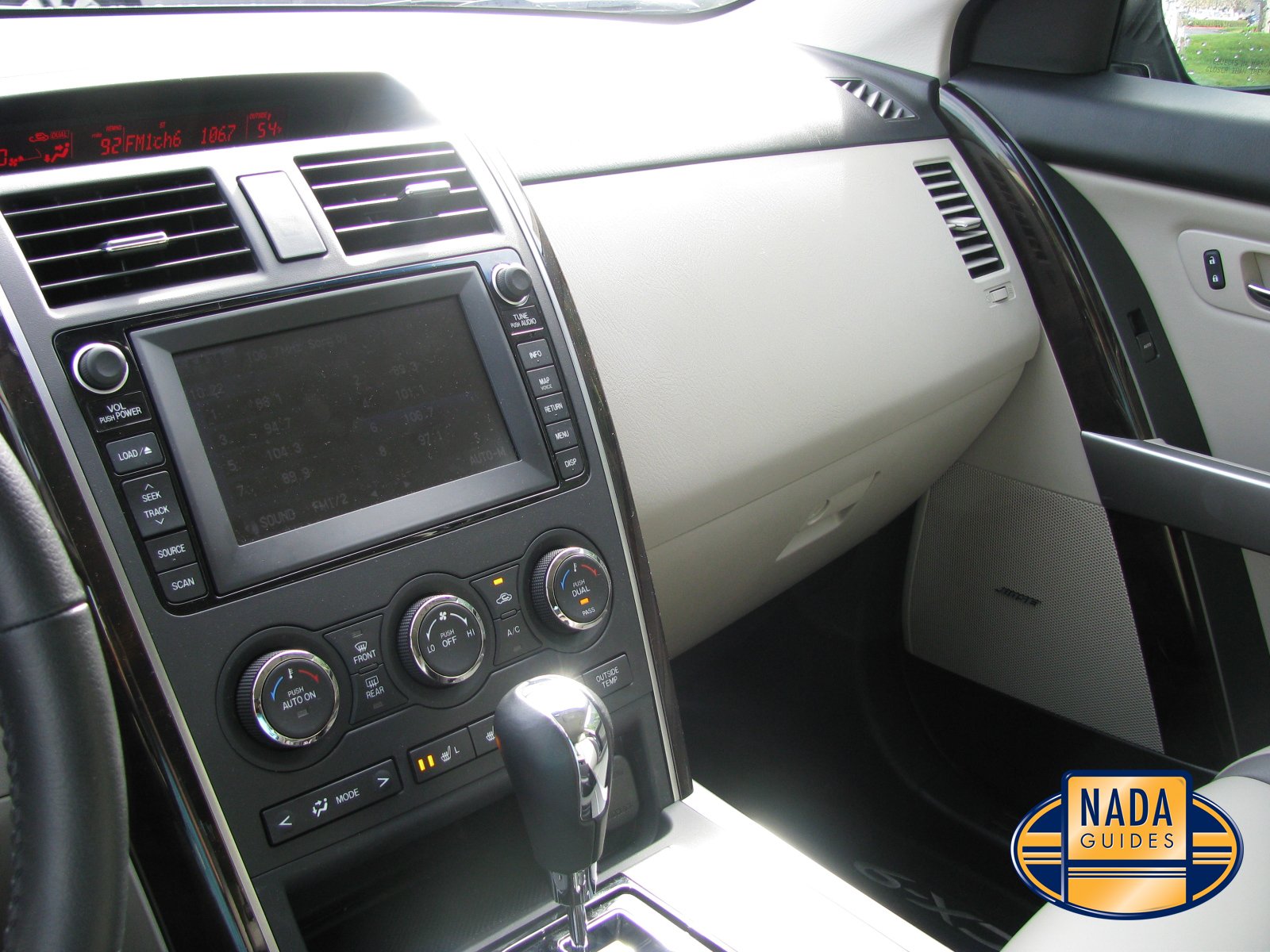 Interior design is aesthetically and ergonomically pleasing; nothing looks out of place. The control panel and instrument cluster designs are clean and well spaced. The controls are well designed; nothing is out of reach or too distracting. Similarly, the steering wheel has excellent grip and is the perfect size, giving the driver a clear view of the control panel and odometers. All of the interior controls, seats, and trims are made from quality materials, boasting lasting durability. 3-zone climate control helps keep up to 7 passengers comfortable with front and rear temperature controls. Decent legroom is made available for all three rows: front leg room 40.9 inches, second legroom 39.8 inches, and third row legroom 32.4 inches. Second row access is easy with 4-door access, however third row seating may require a bit of work (second row folds down 60/40 to provide access to the third row). Versatile trunk space provides ample room without the 3rd row seat (which folds 50/50). Several interior features make life easier; side heated mirrors, auto-dimming rearview mirror with homelink, 3 position memory settings for driver seat (versus 2), power liftgate, and an eye level information center.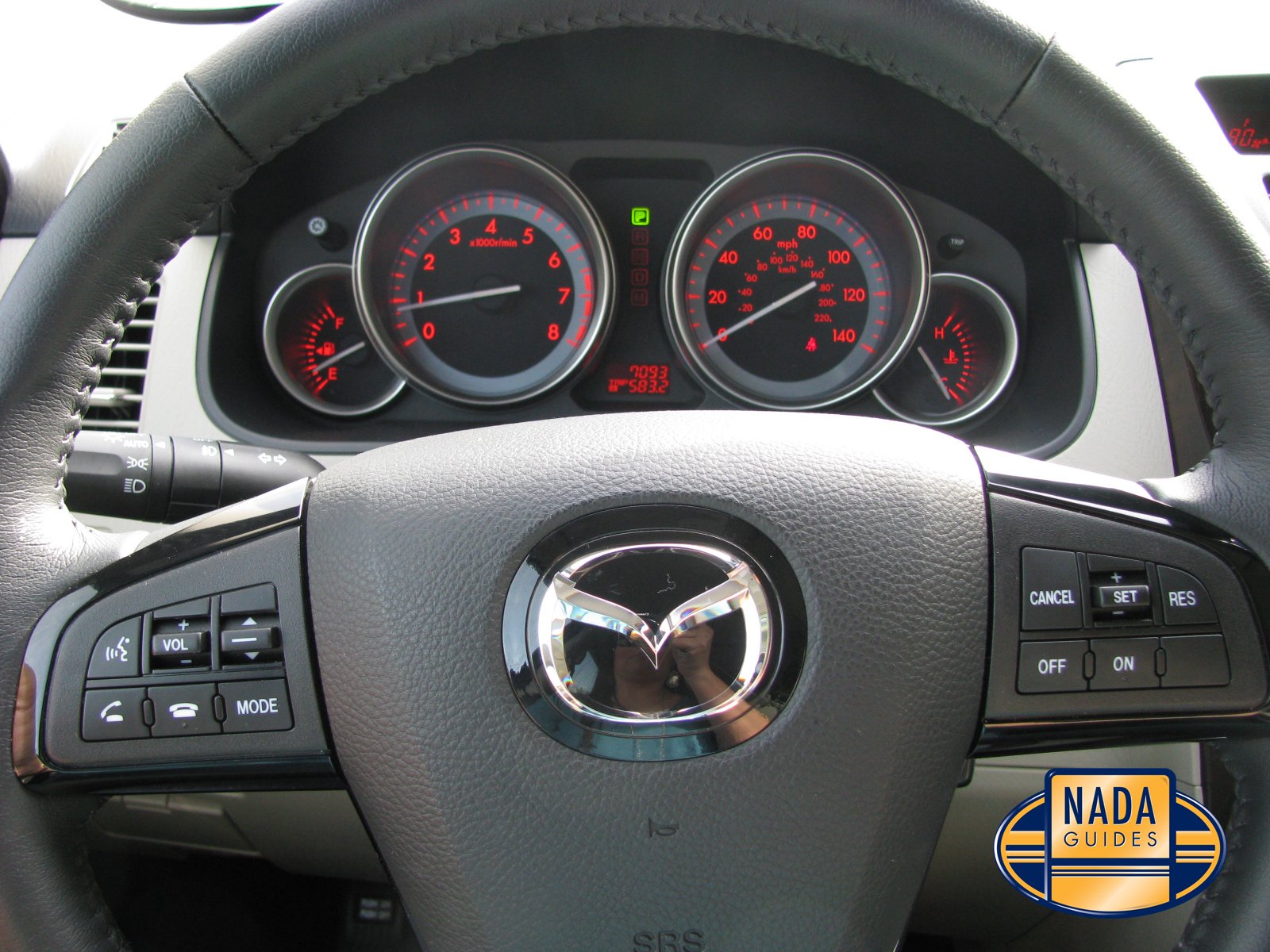 Additional features include backup camera with a large LCD screen, Bluetooth® hands-free phone capabilities, heated seats, keyless entry with preset adjustments, keyless start, rear seat entertainment system, premium Bose® sound system, Blind Spot Monitoring System, satellite radio, steering wheel mounted controls, and tire pressure monitoring.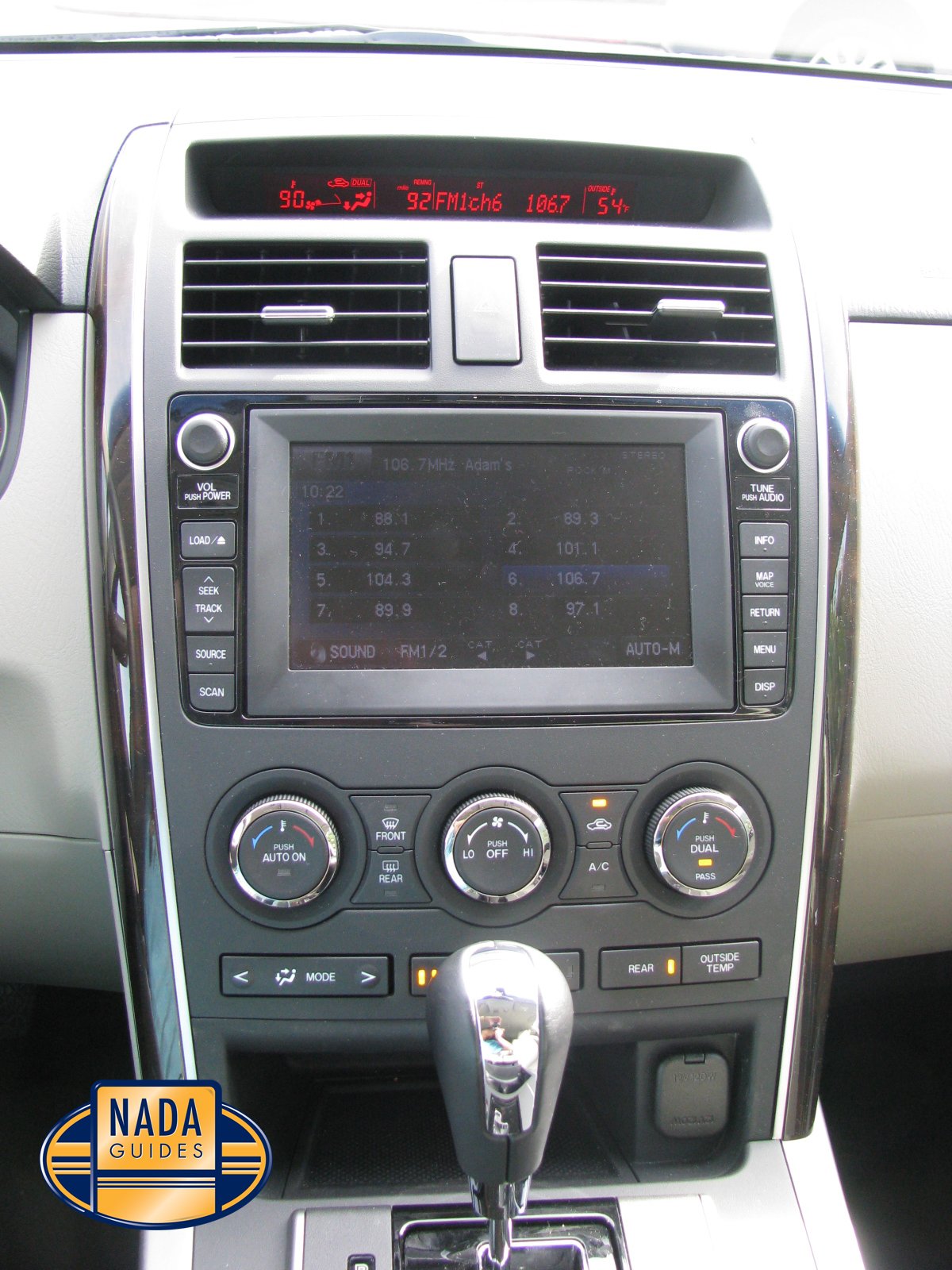 Overall the CX-9 is an enjoyable ride that blends comfort, ride quality, and superior handling. Even weight distributions, combined with low ride height make for a controlled drive at all speeds. Visibility is excellent thanks to big windows and small panels. The xenon HID headlights provide superb visibility at night. A minor drawback is the length of the front end of the vehicle, which is difficult to judge when parking but with minimal cabin noise, impressive ride quality, and premium features the CX-9 offers drivers a crossover vehicle with none of the typical drawbacks.
The Mazda CX-9 has a starting MSRP of
$29,725
for the FWD Sport trim and goes up to
$35,125
for the AWD Grand Touring trim level.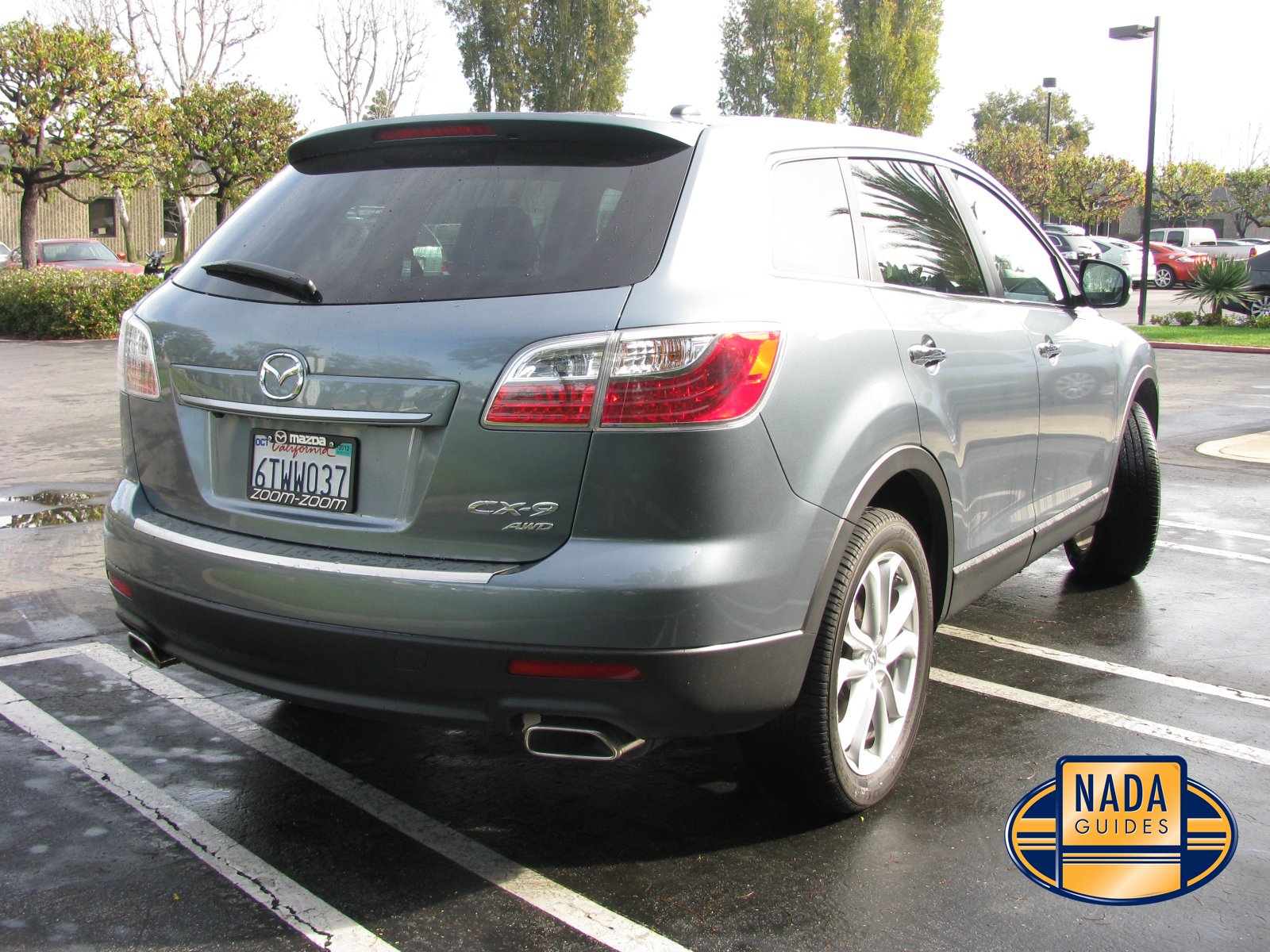 /Cars/Compare-Cars?TrimIds=337622_0_407303
True
Recommended Competitors
Recommended vehicles based on NADAguides.com audience feedback. The values listed below are based on MSRP and does not include any incentives, trade-in, options, or other adjustments.
This Vehicle