2012 Lexus IS 350 Reviews and Ratings
Sedan 4D IS350
NADAguides Consumer Review
Be the first to review this 2012 Lexus IS 350.
Please complete all star ratings before submitting.
Type your review and click the Submit button
to post your comments
600 of 600 character remain
Thank you for submitting your review of the 2012 Lexus IS 350
---
Expert Reviews ( 1 )
2012 Lexus IS 350
NADAguides Test Drive Review
The
2012 Lexus IS350 AWD
is an entry-level luxury sedan that offers premium features and reputable Lexus reliability. Originally introduced in Japan as the Toyota Altezza, the current IS model was introduced to North America in 2000. Initially marketed strictly as a sedan, the IS lineup has expanded to include hard-top convertibles and high performance variants.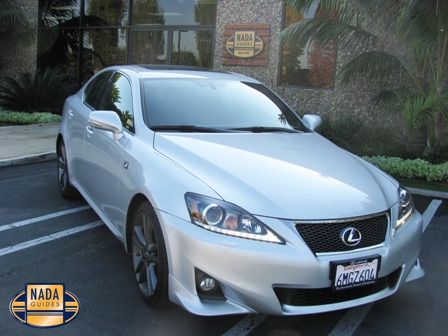 At first glance one can immediately gauge the sportiness of the IS350 AWD. Smooth, fluid lines pull back from a bold front fascia. The entire body style screams sporty while incorporating hints of elegance. Chrome accents, including the dual exhaust, give the IS a touch of luxury. The exterior is available in eight different colors; Cerulean Blue Metallic, Deep Sea Mica, Fire Agate Pearl, Matador Red Mica, Obsidian, Starfish Pearl, Tungsten Pearl, and Ultrasonic Blue Mica.
Under the hood is a 3.5-liter V6 engine that produces 306 hp and 277 lb-ft of torque, granting the vehicle quick and smooth off the line acceleration. The 6-speed automatic transmission with manual shift option is well constructed, eliminating any potential lag or jolting between gears. Although power is plentiful, the engine detracts from fuel mileage; 18 mpg city and 25 mpg highway, numbers that could definitely use some improvement. The nimble feel of the IS allows for easy handling in all situations; with all four wheels working, sway is minimized at slow and fast speeds. Luckily the tight and responsive handling is accented by smooth braking, with no signs of mushy abruptness. The turning radius is a respectable 35.5 curb to curb.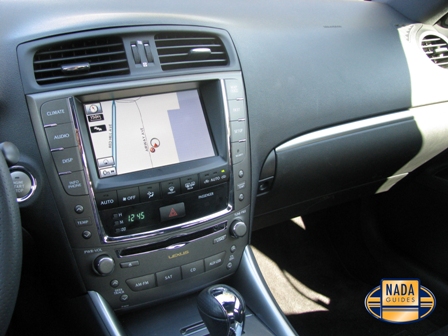 Interior cabin noise is incredibly quiet with no exterior street noise. Lexus chose to leave the interior relatively unchanged; carrying over the simplistic design they have always had. Ergonomically speaking the IS is a homerun; everything is within the reach of driver or passenger and all buttons are in typical places. Everything on the interior of the vehicle is intuitive and easy to use, including the entertainment system, Bluetooth, and auxiliary connection. Although wood accents would add a nice touch, the interior materials are made of good long-lasting materials. The leather wrapped steering wheel provides a nice sporty and comfortable feel. Thankfully comfort extends to the rest of the interior as well; 30.6 inches of legroom in the second row offers enough room for two adults while the 43.9-inches of legroom in the front makes for a spacious anterior cabin. Interior visibility is maximized by an open design and blind spots are alleviated thanks to the Intuitive Park Assist; consisting of four sensors in the front/rear of the vehicle that detect how close you are to surrounding objects.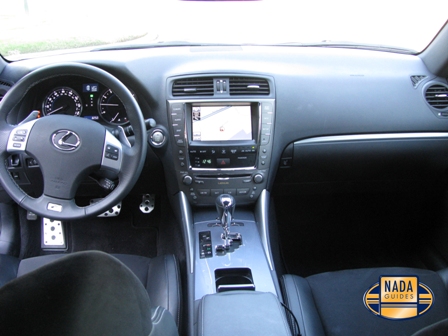 Features include a backup camera with a large screen and guidelines, steering wheel mounted controls, premium audio (Mark Levinson Surround sound with 14 speakers, 7.1-channel architecture and 300 watts with USB/Aux connection), dual-zone automatic climate control, heated/cooled automatic seats, voice activated navigation with real-time traffic/weather/stock/sport updates, hands-free phone capabilities, and HomeLink remote control for garage doors or gates.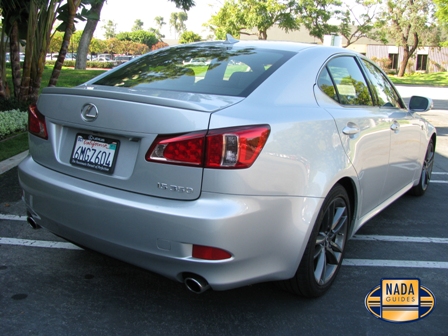 Overall the 2012 IS350 AWD is an impressive vehicle that sits atop the entry-level luxury sedan category with an MSRP of
$42,480
. Premium features and superior ride quality make it an overall winner while the exterior design and performance provide the sporty edge that enables it to compete with other cars in its class. The car is extremely desirable, fun to drive, and comfortable but buyer beware; one of the few flaws is the lack of a full-size spare tire.
---
Overall Quality - Mechanical
Powertrain Quality - Mechanical
Body & Interior Quality - Mechanical
Features & Accessories Quality - Mechanical
Powertrain Quality - Design
Body & Interior Quality - Design
Features & Accessories Quality - Design
---
Overall Dependability
4 / 5
Body & Interior Dependability
Feature & Accessory Dependability
Search Local Cars for Sale
Car Buying and Selling Resources
---
* The J.D. Power Ratings are calculated based on the range between the car manufacturer or car model with the highest score and the car manufacturer or car model with the lowest score. J.D. Power generates a rating of a five, four, three, or two. If there is insufficient data to calculate a rating, "Not Available" is used in its place.
J.D. Power Ratings may not include all information used to determine J.D. Power awards, visit the Car Ratings page to learn more about awards and ratings.