8 Reviews
Sort by:
Susankevin95
August 23, 2019
We get 17 mpg city and 20 highway. Its terrible on gas! The Bluetooth never worked at all, the heater stopped working, the doors fill up with water when it rains, the cowl on the windshield buzzed and the passenger seat wobbles. The backup camera also no longer works.
I loved this vehicle when I bought it. Especially loved it was still under warranty. Till a few weeks after purchase when after finding the cylinder needed replaced, the warranty meant nothing. They said because of my car''s age and milage they will not give me a loner and they have over 4000 of these parts on back order. Meaning, this car may not get fired for a very long time. So if you want a dependable car. Don''t buy this one.
This car is not a bad car but if you do get one go for the v6 and not the 4 banger. the inside of the car is nice and has pleanty of room for the family on road trips (opted to not have 3rd row seats). I do like how far the rear doors open makes getting the car seat kids and items in and out of the car very nice. down side of those doors swinging open so far is if you park close to someone you must make sure the little ones dont fling the door open all the way. ( so far so good with this). Fuel economy is not bad for the size o the veh but we also got the 4 cylinder. fwd only is bad in snow.
michelle
February 03, 2014
My 1st crossover we loved it from the word Go!! Easy to drive >> Comfortable ride with lots of room . The 3rd row seats are great for kids or small adults( biggest complaint not a lot of leg room) Heater and AC work great with both front and back controls. (Only Complaint need more heat by the feet). Have had this car for 1 2 year .
Write a Review for the 2012 Dodge Journey
Expert Reviews
NADAguides Test Drive Review
powered by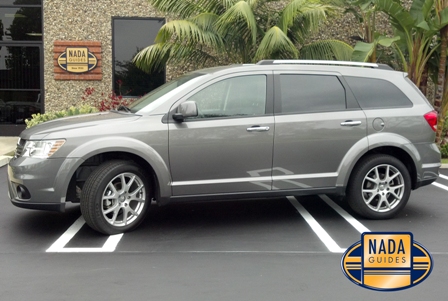 Fresh off the 2011 update, the 2012 Dodge Journey Crew is a mid-size crossover SUV available in five different trim levels; AVP, SE, SXT, CREW, and R/T. The Journey is slated to become the small SUV in the Dodge lineup with the phasing out of the Dodge Nitro. Cabin noise is minimal (no rattles, vibration or harshness) and the ride is smooth due to the independent four-wheel suspension: MacPherson front struts, Multi-link rear suspension, coil springs and stabilizer bars. The Journey is very easy to handle, making maneuvers into and out of parking spots a breeze. The Parking Assistance System also allows for easy maneuvering by sounding an audible alarm warning when the sensors detect minimal distance from surrounding objects. In addition to the audible warning, when the vehicle is in reverse, green/yellow/red guidelines on the LCD screen provide visual guidance to the driver when too close to an object.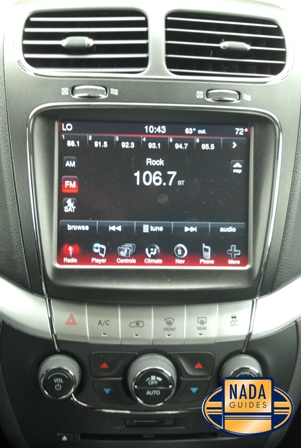 The exterior of the vehicle is impressive with smooth lines, aggressive grille, and chrome accents (handles, exhaust, and luggage rack rails). All panels are tightly blended together eliminating most noticeable lines. Colors include Brilliant Red, Blue Pearl, Copperhead Pearl, Pearl White, Storm Grey Pearl, and Brilliant Black Pearl.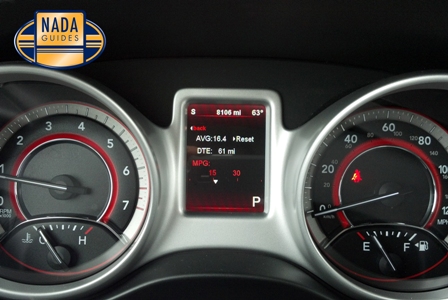 The Dodge Journey is equipped with a 3.6-liter V6 engine that produces 283 hp and 260 lb-ft of torque. Mating the engine with a 6-speed automatic transmission, the Journey has smooth acceleration and ample power for a vehicle of its size. Slight lag off the line can be quickly recovered with power supplied by dual valve timing, dual-tuned intake manifold, and electronic throttle control. ABS is smooth and responsive leaving the driver feeling in control (especially with a turning radius of 39 feet).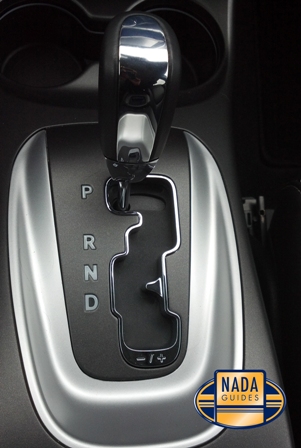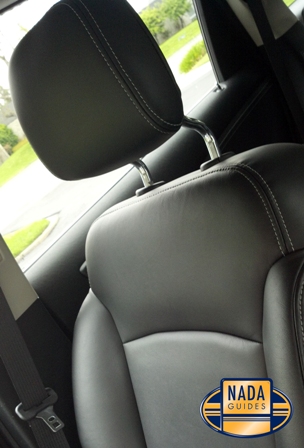 Interior design is clean, sporty and durable. The dash is kept uncluttered with minimal buttons/knobs and hints of brushed silver "metal" accents add a nice visual touch to the overall look. Leather stitched accents highlight the seats and make their way to the door panels. The driver information display is simple with a digital information center between the odometer and speedometer. Second and third row access is made easy due to the Tilt 'N Slide Seat feature, four doors, and 60/40 fold down seating. Black leather stitched seats are firm but comfortable with 6-way power adjustments, making comfort easy to control and maintain. Touch-screen icons keep the dashboard very clean and uncluttered, eliminating a cluster of buttons. The only buttons occupying the center media center rest below the LCD screen and are used for dual climate control. Interesting features include 3-zone automatic climate control, second row seat recline, in-floor storage bins, heated side mirrors and in seat cushion storage. Icons used on the media center are helpful with navigating what it is you would like to control: Radio/ Player/ Controls/ Climate /Nav/Phone/More. SIRIUS XM Satellite Radio with Replay mode, as well as an audio jack/USB connection for MP3 players or cell phones is part of the media center features. Comfort and space is emphasized with 40.8" of front legroom and 33.6" of legroom in the second row. The Tilt Telescoping Steering Wheel column with leather trim provides maximum comfort for the driver and allows a variety of adjustments to be made to eliminate obstruction of instruments. Cargo space is limited with the third row seat in use; however the third row folds 50/50 and second row folds 60/40 flat if more space is needed.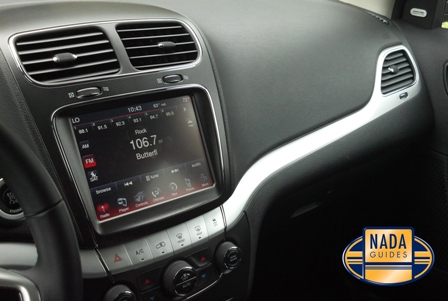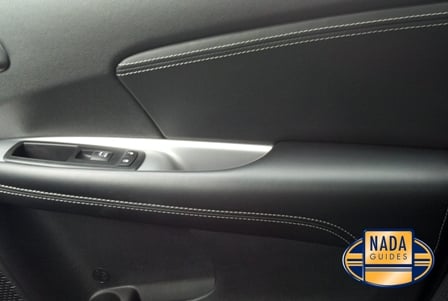 Features include ParkView Rear Back-up Camera - 8.4" wide-angle view of the area behind the vehicle with LCD screen provides guide lines, Parking Assistance System (ParkSense Rear Park Assist System), Uconnect Voice Command with Bluetooth, two built-in child booster seats, heated front seats, keyless Enter 'n Go System - push start button with proximity entry, remote start system, Accident Avoidance system, Electronic Roll Mitigation, premium Infinity speakers, Integrated steering wheel controls, Electronic Vehicle Information Center mode changes, and Uconnect Voice Command controls.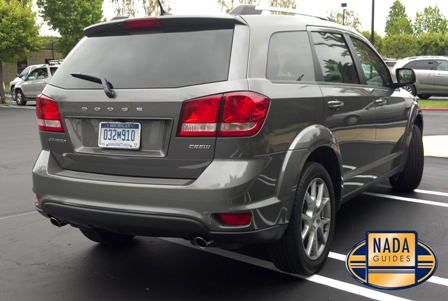 The Dodge Journey is nimble and maintains control at different speed levels, even while turning and cornering. With good-sized windows and a well-thought out interior layout, blind spots are minimal, providing confidence and putting the driver at ease. This SUV has it all: versatility, comfort, advanced technology, stand-out features and family-friendly options. At a very affordable price, anyone looking for a work and play SUV will want to take this journey.
/Cars/Compare-Cars?TrimIds=335636_0_376562
True
Recommended Competitors
Recommended vehicles based on NADAguides.com audience feedback. The values listed below are based on MSRP and does not include any incentives, trade-in, options, or other adjustments.
This Vehicle