2011 Dodge Durango Reviews and Ratings
Utility 4D Citadel AWD
NADAguides Consumer Review
Be the first to review this 2011 Dodge Durango.
Please complete all star ratings before submitting.
Type your review and click the Submit button
to post your comments
600 of 600 character remain
Thank you for submitting your review of the 2011 Dodge Durango
---
Expert Reviews ( 1 )
2011 Dodge Durango
NADAguides Test Drive Review
The Dodge Durango is back!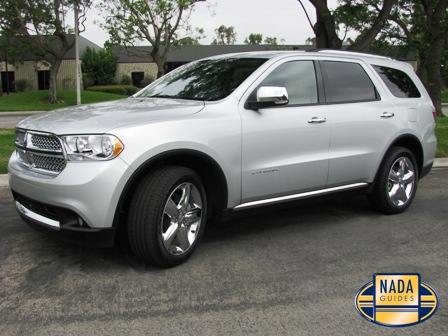 It's better than ever and definitely heating up the competition between other vehicles in its class. At first glance it's pretty clear why the Durango took so long to be revamped and when you sit in the driver seat it's even more apparent what the big deal is. The
2011 Dodge Durango
has had some tough competition with the class leading
Ford Explorer
, as well as other popular models like the
Toyota 4-Runner
,
GMC Acadia
and
Chevrolet Traverse
, to name a few. With a complete overhaul inside and out, improved performance and drive, and an affordable price tag, the Durango is sure to impress and give you what an SUV should, plus more!
The exterior is completely redesigned and presents a fresh look for the Durango. Every line has become fluid with each panel flowing smoothly into the next, and while the body has become remotely smooth and less muscular, Dodge has added just enough chrome accents to give it a hint of character. The grill is still very predominant; however the glam has definitely been upgraded this time around adding almost a diamond-like sparkle to the new face of the Durango. The
Citadel
(as test driven) comes with 20-inch x 8.0-inch aluminum chrome clad wheels and when combined with the smooth lines, chrome accents and glamour-rich grill, give it that sporty meets luxury appearance. The Durango also comes equipped with a power sunroof, power liftgate, fog lamps and low beam/SmartBeam headlamps with Auto Leveling System.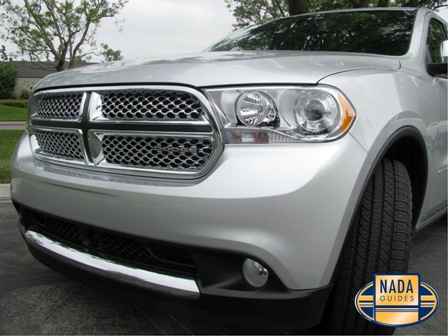 Equipped under the hood with a 3.6-Liter V6 24-Valve VVT engine, the Dodge Durango has 290 horsepower and 260 lb-ft of torque; although leaving the 4Runner and Pilot in the dust, this puts it at an even playing field with the newly redesigned Ford Explorer. All trims come standard with a 5-speed automatic transmission which included Electronic Range Select driver-interaction manual control and an electronically modulated torque clutch. The Durango provides great continuous power for the most part, but if you catch the shift in the wrong place (3-4k) you can feel a bit of lag. Even being as large of a vehicle as it is, the Durango was extremely easy to handle, had one of the best turning radius capabilities in its class and at the end of the day, drove like a luxury vehicle instead of a rough road SUV. Equipped with anti-lock 4-wheel disc brakes with rough road detection, the Durango brakes very well; abruptly but smooth. Although, the Durango has ample power under the hood, which you could get VERY used to especially if you have a lead foot, it doesn't come without a price: lack of fuel efficiency. While most SUVs are trying to beat the high fuel price odds and competing with models like the Ford Explorer (17city/25hwy), the Durango only gets 16city/23hwy, then you add its ability to tow 5000 pounds and it becomes even less of a competitor in the fuel efficiency aspect. However, while fuel efficiency might be at the top of most people's minds, when you drive this vehicle and take into account everything else it has to offer, the gas mileage becomes a very distant concern.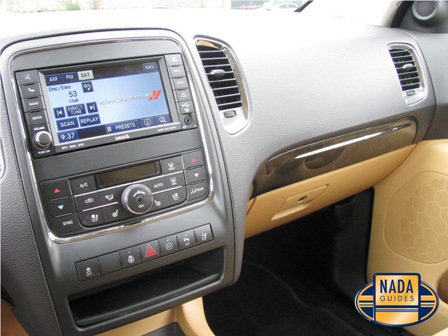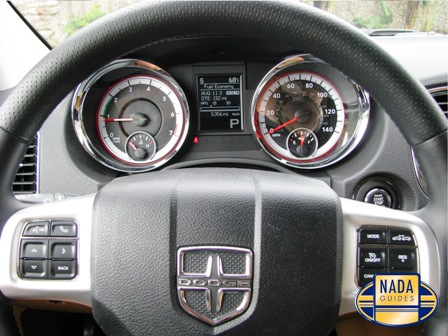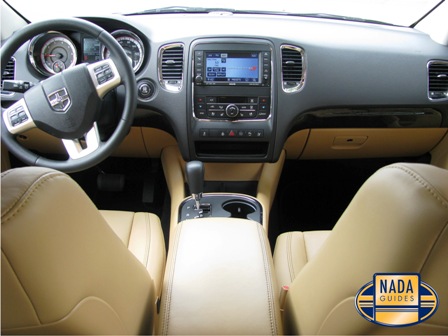 Dodge gave the interior a quality upgrade, providing comfort at all levels with 8-way and 4-way power seats, heated and cooled seat features for front passengers and heated seat options for second row passengers. The leather seats are extremely comfortable in this vehicle and are very easy to adjust to the right setting for the right level of comfort. Even with three rows of seating, the Durango has ample and comfortable legroom and space for adults and children. The driver has an added bonus features with a heated steering wheel and the power tilt telescope steering column for drivers who can't quite get comfortable with the typical tilt steering wheel. This not only allows drivers to move the wheel up and down but also allows for power adjustment by moving it towards or away from them. The Citadel trim provides a very luxury sport look and feel with a blend of perforated camel colored leather, wood grain and black accents. The leather-wrapped shift knob, leather wrapped door armrests and console lid and illuminated cup holders are just small touches Dodge has added that have made BIG differences. The colors work very well together and every inch of the interior are designed well and with much thought. Nothing is out of reach and all controls are intuitively designed for ease of use. Climate and entertainment controls provide typical functionality; not complicated at all. The Media Center is a 6.5" touch screen that is CD, DVD, MP3, HDD, and Navigation ready with Uconnect Voice Command with Bluetooth capabilities. While these capabilities are a step up from past models, the LCD screen graphics are a bit behind the competition, especially when being compared to Ford Explorer's Microsoft SYNC. All in all it gets the job done.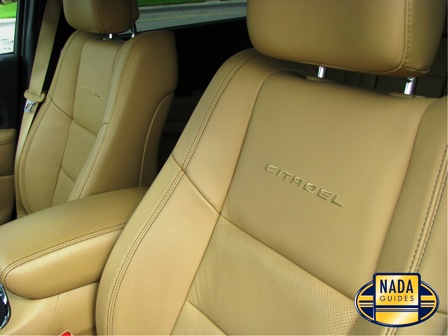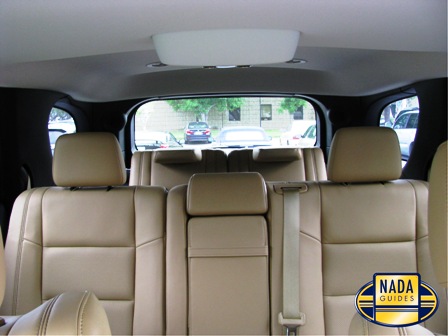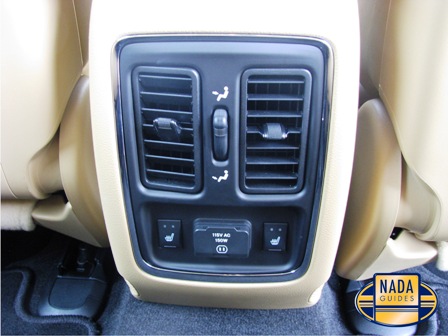 As for safety, the Durango rises above the competition. Not steering away from the typical safety feature, it comes equipped with side curtain airbags in all rows, front seat-mounted side airbags, advanced multistage front airbags, electronic stability control, Blind Spot and Rear Cross Path Detection, ParkView Rear Back-up camera and ParkSense Rear Park Assist System. In addition, Dodge used advanced technology to add features such as Adaptive Speed Control/Forward Collision Warning and Enhanced Accident Response System. Both are designed to help prevent collision of any kind by alerting with an audible chime when something crosses the path behind the vehicle or if the sensors detect when a vehicle may be coming too close, too quickly to your vehicle.
The 2011 Dodge Durango was impressive all around. Sport utility meets luxury, combined with comfort, ample space, intuitive technology, high performance and a drive you can't wait to experience time and time again – Dodge has hit its mark. The Durango provides the versatility of an SUV and a driving experience that you could only expect from a luxury vehicle. The Dodge Durango comes in six trims starting at $29,195 with the Express and going up to $42,020 for the Citadel trim.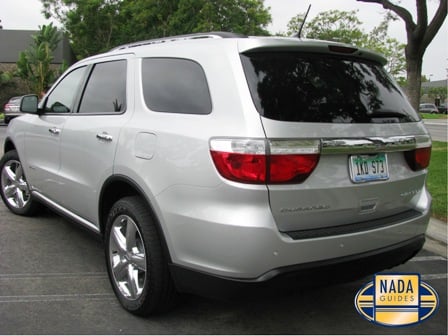 ---
Overall Quality - Mechanical
Powertrain Quality - Mechanical
Body & Interior Quality - Mechanical
Features & Accessories Quality - Mechanical
Powertrain Quality - Design
Body & Interior Quality - Design
Features & Accessories Quality - Design
---
Overall Dependability
3 / 5
Body & Interior Dependability
Feature & Accessory Dependability
Search Local Cars for Sale
Car Buying and Selling Resources
---
* The J.D. Power Ratings are calculated based on the range between the car manufacturer or car model with the highest score and the car manufacturer or car model with the lowest score. J.D. Power generates a rating of a five, four, three, or two. If there is insufficient data to calculate a rating, "Not Available" is used in its place.
J.D. Power Ratings may not include all information used to determine J.D. Power awards, visit the Car Ratings page to learn more about awards and ratings.