2013 Sportsmen
M-S231BH Special Notes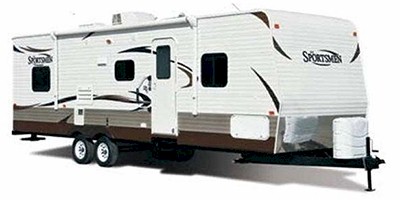 Sportsmen Note
TRAVEL TRAILERS/5TH WHEELS - 1995-current prices include AM/FM cassette, water heater, air conditioner, awning, microwave and monitor panel are included in price. Ultra Lite, Coyote and Sport models represent a base price only, however water heater included. For informaton on Coyote, MXT and Frontier, please see individual listings for each line.
2013 Note
In addition to standard equipment, Classic prices include furnace, air conditioning. Sportster and Sportsmen travel trailers include Standard Run Package. Sportsmen and Sportster fifth wheel also include fiberglass. Coyote includes Upgrade Package, furnace, aluminum wheels and stab jacks. Coyote CL180 also includes mini slide. Rock Climber includes Bedrock Package and spare tire/carrier/cover.
Save with a FREE quote on a 2013 M-S231BH
Get your Insurance Quote in minutes


Protect your investment


Multiple options available


Get a Specialized RV Coverage to protect your vehicle against depreciation
Rent Your 2013 Sportsmen RV
RV History & Title Report
Don't make a costly mistake. Get the facts for RVs or tow vehicles before you buy.
Check for title problems
Open liens & recalls
Severe damage
Salvage
Theft
Post your RV ad fast and for cheap
Be seen by over 1.3 million shoppers a month
Compare real, custom loan offers from multiple lenders in minutes!
Find Your Best Rates
Attention west coast RV owners!
We'll pay CASH for your RV – TODAY!
Get Cash