2013 Keystone RV Hideout Series M-19 FLB Equipment: Prices and Specs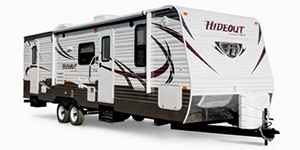 Select 2013 Keystone RV Hideout Series M-19 FLB Options
[+]
View manufacturer note:
TRAVEL TRAILERS/5TH WHEELS - Prices include air conditioner, awning, stabilizer jacks, microwave, AM/FM cassette stereo and water heater with DSI. Challenger and Hornet previously listed under Damon Corporation.


In addition to standard items, Alpine includes, fireplace, central vacuum, 32" LCD TV, 50 amp cord, 13 cu ft refrigerator, Alps and Chateau Package. Avalanche includes trail air pin (341 only), Whiteout and Base Camp Package. Bullet Ultra Lite and Premier include Premier (on Premier only), Exterior, Interior and Thermal packages. Sprinter Copper Canyon includes Camping Made Easy and Customer First Safety Package. Energy includes High Energy, Entertainment Packages, 15k A/C, aluminum wheels and 4.0 generator. Laredo includes Bigger is Better and Best in Class Packages. Outback includes Comfort, Luxury and Designer Packages, LCD Campsite Theater (except 298 RE), 32" HD LCD TV (only on 298 RE). Passport Ultra Lite and Super Lite include Exterior and Interior Packages. Raptor travel trailers and fifth wheel (297 SE only) include Premium, Safety, Interior and Exterior Value Packages. Raptor Fifth Wheel pricing includes Entertainment, Premium Wheel, Interior, Exterior, Luxury and Safety Packages, 2nd fuel tank(N/A on 310) and 12' 4 door refrigerator(N/A 300 and 395). Raptor TT and SE FW includes LCD TV (TT only), Entertainment(SE FW only), Interior, Exterior and Safety Packages. Residence includes vacuum and Residential Package. Retreat includes Retreat Camping Comfort Package. Springdale fifth wheels includes fiberglass exterior, sofa bed, enclosed underbelly(TT also), LCD TV(TT also), Deluxe Entertainment System(TT also). Sydney includes Sydney Designer, Luxury and Comfort Packages. Sprinter includes Camping Made Easy and Outdoor and More Kitchen Packages, 32" LCD TV, aluminum wheels and mattress. Summerland includes Summer Package. Hideout includes enclosed underbelly, radial tires, tub surround and Luxury Package. Hornet Platinum includes aluminum wheels, spare tire and carrier, heated and enclosed underbelly, Platinum and Hornet Luxury Packages. Cougar includes storage rack, remote, free standing dinette, multi-functional sofa, 2 recliners, 2 swivel rockers, fireplace, 15k A/C , aluminum wheels, Camping in Style, Value, Convenience, Cougar or 1/2 Ton and Polar Packages. Cougar Lite includes RVQ grill, aluminum wheels, Camping in Style, Value, Convenience and Polar Packages. Cougar High Country includes 2 recliners, air mattress sofa, free standing dinette(291, 299, 309 and 321 only), aluminum wheels, remote, high gloss exterior, 15k A/C, Camping in Style, Value, Convenience, High Country and Polar Packages. Fuzion travel trailers and fifth wheels include Intense and Extreme Packages, 5500 watt generator. Fuzion (fifth wheels only) include electric beds with dual opposing couches, frame welded D-rings, manual screen wall, 2nd awning and dual A/C. Mountaineer includes Glacier, Moving to Montana and Hickory Packages. In addition to previously mentioned Mountaineer M-375 also includes, upgraded suspension with hitch, dinette, and bathroom power vent. Montana High Country includes fireplace, 12' 4 door refrigerator (models 313 and 343 only), Moving to Montana and High Country Packages. Montana Hickory includes hi-gloss gel coated exterior, ducted 2nd 13,500 BTU A/C, 12' 4 door refrigerator, central vacuum, fireplace, Moving to Montana and Hickory Edition Packages. In addition to previously mentioned items Montana Big Sky also includes Big Sky Package. Vantage includes AdVantage Package, aluminum wheels and 32" LCD TV. Springdale SRT includes 15" spare tire, Rugged Terrain, Pacific and Deluxe Entertainment Packages. Terrain Ultra Lite Outback models include Terrain Exterior and Interior Group.



OR select options below
Option note:
Only select options below that are in
addition
to standard equipment and equipment noted in the manufacturer or year notes show above. If you are uncertain of what came standard, please contact your manufacturer with your VIN.
AIR CONDITIONING AND HEATING
APPLIANCES
ENGINE AND SUSPENSION SYSTEMS
ENTERTAINMENT
GENERATORS
JACKS AND LEVELING SYSTEMS
MISCELLANEOUS OPTIONAL EQUIPMENT