2013 Gulf Stream Conquest Series M-24RBL Equipment: Prices and Specs
Select 2013 Gulf Stream Conquest Series M-24RBL Options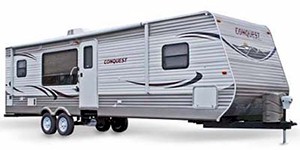 Gulf Stream Note
TRAVEL TRAILERS/5TH WHEELS - From 1995 to current, air conditioner, awning, water heater, microwave and monitor panel are included in prices. TRAVEL TRAILERS/5TH WHEELS - For Matrix, Northern Express or Track and Trail, please see Endura Max RV.
2013 Note
In addition to what is standard and applies to the Trailmaster and Kingsport: Models 236BHL, 23RBS,250RKS, 258RBS, 262BH, 263BH, 265BHS, 270RLS, 288RLS, 321TBS, 350RLS, include Camping Value and Benefit Packages, jacks, outside shower and speakers, diamond plate front, bathroom skylight, 3 burner range, tub surround, XL grab handle and sink cover; Models 371TBS, 372TBS, 380FRS, 380SS, 381FRS, include upgraded flooring, spare tire, tub/shower surround, bathroom skylight, enclosed insulated underbelly, jacks, swing away door handle, 30lb LP bottle, jacks and bedspread; Models 245FBW, 24FTBS, 24RBLG, 24RKL, 260RLS, 268RBK, 269BHL, 260RLS, 268RBK, 269BHL, 279QBL, 295SBW, 399DLS, 408TBS include spare tire and jacks; In addition to previously mentioned items model 24BH also includes LE Package; Model 275FBG also includes ducted bedspread, TV antenna, jacks, spare tire and 2 door refrigerator. Models 34FL, 382TBS, 39FE and 40FK includes enclosed underbelly, jacks, scare lights, swing away door handle, ceiling fan, skylight, day/night shades, wood grain floor tile and solid surface counter tops. Conquest and Innsbruck include spare tire and jacks. Ameri-Lite includes LE package and spare tire. Gulfbreeze Sport and Streamlite Sport includes TV antenna, DVD player, 3 range burner, sink cover, foam mattress, jacks, spare tire, outside spray port, 21TSB only front exp bed and 22TRB only 2 bar stools. Gulfbreeze and Streamlite XLT/Champagne include Exterior, Power, Interior and Champagne (only on Champagne models) Packages. Visa includes TV antenna with cable, spare tire, outside spray port and foam mattress
Select options to get a specific value OR
Option note:
Only select options below that are in
addition
to standard equipment and equipment noted in the manufacturer or year notes show above. If you are uncertain of what came standard, please contact your manufacturer with your VIN.
AIR CONDITIONING AND HEATING
ENGINE AND SUSPENSION SYSTEMS
JACKS AND LEVELING SYSTEMS
MISCELLANEOUS OPTIONAL EQUIPMENT