2013 Gulf Stream
Stream Lite Sport Series M-24RBH Special Notes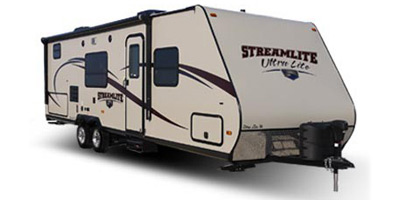 Gulf Stream Note
TRAVEL TRAILERS/5TH WHEELS - From 1995 to current, air conditioner, awning, water heater, microwave and monitor panel are included in prices. TRAVEL TRAILERS/5TH WHEELS - For Matrix, Northern Express or Track and Trail, please see Endura Max RV.
2013 Note
In addition to what is standard and applies to the Trailmaster and Kingsport: Models 236BHL, 23RBS,250RKS, 258RBS, 262BH, 263BH, 265BHS, 270RLS, 288RLS, 321TBS, 350RLS, include Camping Value and Benefit Packages, jacks, outside shower and speakers, diamond plate front, bathroom skylight, 3 burner range, tub surround, XL grab handle and sink cover; Models 371TBS, 372TBS, 380FRS, 380SS, 381FRS, include upgraded flooring, spare tire, tub/shower surround, bathroom skylight, enclosed insulated underbelly, jacks, swing away door handle, 30lb LP bottle, jacks and bedspread; Models 245FBW, 24FTBS, 24RBLG, 24RKL, 260RLS, 268RBK, 269BHL, 260RLS, 268RBK, 269BHL, 279QBL, 295SBW, 399DLS, 408TBS include spare tire and jacks; In addition to previously mentioned items model 24BH also includes LE Package; Model 275FBG also includes ducted bedspread, TV antenna, jacks, spare tire and 2 door refrigerator. Models 34FL, 382TBS, 39FE and 40FK includes enclosed underbelly, jacks, scare lights, swing away door handle, ceiling fan, skylight, day/night shades, wood grain floor tile and solid surface counter tops. Conquest and Innsbruck include spare tire and jacks. Ameri-Lite includes LE package and spare tire. Gulfbreeze Sport and Streamlite Sport includes TV antenna, DVD player, 3 range burner, sink cover, foam mattress, jacks, spare tire, outside spray port, 21TSB only front exp bed and 22TRB only 2 bar stools. Gulfbreeze and Streamlite XLT/Champagne include Exterior, Power, Interior and Champagne (only on Champagne models) Packages. Visa includes TV antenna with cable, spare tire, outside spray port and foam mattress
Save with a FREE quote on a 2013 M-24RBH
Get your Insurance Quote in minutes


Protect your investment


Multiple options available


Get a Specialized RV Coverage to protect your vehicle against depreciation
Rent Your 2013 Gulf Stream RV
RV History & Title Report
Don't make a costly mistake. Get the facts for RVs or tow vehicles before you buy.
Check for title problems
Open liens & recalls
Severe damage
Salvage
Theft
Post your RV ad fast and for cheap
Be seen by over 1.3 million shoppers a month
Compare real, custom loan offers from multiple lenders in minutes!
Find Your Best Rates
Attention west coast RV owners!
We'll pay CASH for your RV – TODAY!
Get Cash