2012 Palomino
Puma Series M-19FS Special Notes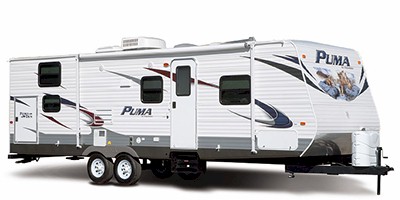 Palomino Note
TRAVEL TRAILERS/5TH WHEELS - Information for model years 1997-1999 not available. Prices include TV antenna, outside stove and shower, monitor panel, range cover, spare tire with carrier and awning
2012 Note
Sabre Silhouette includes electric awning, carbon monoxide detector, cage construction, Feature #1, Feature #2, Enclosed and Heated Packages. Sabre includes High Fidelity, Superior Construction and Superior Feature Packages, bike rack, air bed, A/C, rear stabilizer jacks, 6k axles with E-rated tires and aluminum rims. Canyon Cat includes Express Package.
Save with a FREE quote on a 2012 M-19FS
Get your Insurance Quote in minutes


Protect your investment


Multiple options available


Get a Specialized RV Coverage to protect your vehicle against depreciation
Rent Your 2012 Palomino RV
RV History & Title Report
Don't make a costly mistake. Get the facts for RVs or tow vehicles before you buy.
Check for title problems
Open liens & recalls
Severe damage
Salvage
Theft
Post your RV ad fast and for cheap
Be seen by over 1.3 million shoppers a month
Compare real, custom loan offers from multiple lenders in minutes!
Find Your Best Rates
Attention west coast RV owners!
We'll pay CASH for your RV – TODAY!
Get Cash