2012 Evergreen RV
Ever-Lite Series M-27RB Special Notes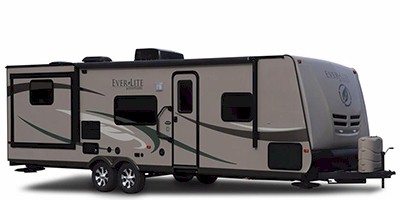 Evergreen RV Note
TRAVEL TRAILERS/5TH WHEELS - Ever-Lite series include "Value Package" and remote control package plus 15K BTU air conditioner, 32' TV upgrade, Hide-A-Bed (N/A 232RBS, 242RBS, 255RBF, & 292FLBS Models), fireplace w/ remote control (N/A 30RLW), power tongue jack, diamond shield clear stone guard, high-output 10 blade fan in bedroom, and high-output 10 blade fan in bathroom. No further information available.
2012 Note
In addition to what is standard, all models include Value package. Ever-Lite includes air conditioner, LCD, gas oven, fan in bathroom, power tongue jack. Ever-Lite fifth wheels also include rear stab jacks, free standing table and four chairs, hide-a-bed and hitch. IGO includes air conditioner, LCD, gas oven, bathroom fan and power tongue jack.
Insure your 2012 M-27RB for just $125/year*
#1 specialty RV insurer: More RVers trust us, and we offer some of the best rates and coverages in the industry.*
Savings: We offer plenty of discounts, and rates start at just $125/year.
Coverages: We have specialized coverage options for full timers and recreational RVers.
*Annual premium for a basic liability policy excludes travel trailer and is not available in all states. No. 1 specialty RV insurer from 2017 Millward-Brown national survey data.
Rent Your 2012 Evergreen RV RV
RV History & Title Report
Don't make a costly mistake. Get the facts for RVs or tow vehicles before you buy.
Check for title problems
Open liens & recalls
Severe damage
Salvage
Theft
Post your RV ad fast and for cheap
Be seen by over 1.3 million shoppers a month
Compare real, custom loan offers from multiple lenders in minutes!
Find Your Best Rates
Attention west coast RV owners!
We'll pay CASH for your RV – TODAY!
Get Cash