2012 Cedar Creek
Fifth Wheel Series M-36CKTS Special Notes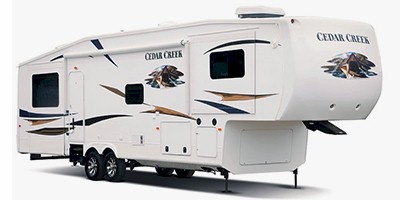 Cedar Creek Note
TRAVEL TRAILERS/5TH WHEELS - From 1999 to current, prices include air conditioning, awning, microwave, leveling jacks, double door refrigerator and double/trpl steps. 2002 and newer also spare tire kit, bathroom fan, roof rack/ldr(fw), electronic front jacks(fw).
Save with a FREE quote on a 2012 M-36CKTS
Get your Insurance Quote in minutes


Protect your investment


Multiple options available


Get a Specialized RV Coverage to protect your vehicle against depreciation
Rent Your 2012 Cedar Creek RV
RV History & Title Report
Don't make a costly mistake. Get the facts for RVs or tow vehicles before you buy.
Check for title problems
Open liens & recalls
Severe damage
Salvage
Theft
Post your RV ad fast and for cheap
Be seen by over 1.3 million shoppers a month
Compare real, custom loan offers from multiple lenders in minutes!
Find Your Best Rates
Attention west coast RV owners!
We'll pay CASH for your RV – TODAY!
Get Cash