2012 Allegro
M-32CA Ford 362hp Special Notes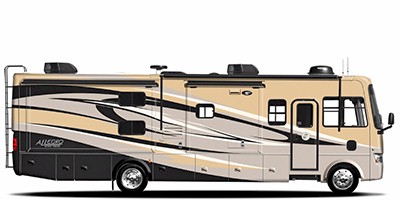 2012 Note
In addition to standard equipment, Zephyr prices include Triple Crown fabrics, cherry wood cabinets, dishwasher, safe, all electric coach, basement freezer, patio awning, dinette/workstation, 2nd slide tray, ultra leather air coil hide-a-bed and leather sofa/booth dinette. Allegro Bus includes cherry wood cabinets, satellite dish, hydronic heating system, residential refrigerator, solar panel, 32' exterior tv, satellite radio, all electric coach, bedroom tile on 43QBP AND 43QGP, navigation system, rearview mirror, cb, 37" dash tv, dishwasher, cooktop, washer, dryer, cloth air, coil sofa bed on 40QXP, sofa/booth leather dinette(n/a on 36QSP, 40QXP), two leather recliners, comfort mattress. Phaeton includes air horns, spotlight, 32 and 37" television, 10K generator. Allegro Red includes Alder cabinetry, LCD mid and bedroom television, two air conditioners, generator, satellite, awning, inverter, two 15K a/c with heat pump, surround sound, leather driver and passenger seat, vacuum, washer, dryer, residential refrigerator, 4 door refrigerator on 38QBA, LCD front tv(n/a on 38QBA), 62" leather sofa bed, 68" leather hide-a-bed on 34QFA, 75" leather hide-a-bed on 36QSA, 38QBA and king bed on 34QFA. Allegro includes drivers power window, satellite, surround sound, power driver and passenger leather seats, vacuum, LCD bedroom television, LCD front tv in 34TGA, 35QBA, drop down television monitors on 35QBA, 68" leather hide-a-bed(n/a on 30DA).
Insure your 2012 M-32CA Ford 362hp for just $125/year*
#1 specialty RV insurer: More RVers trust us, and we offer some of the best rates and coverages in the industry.*
Savings: We offer plenty of discounts, and rates start at just $125/year.
Coverages: We have specialized coverage options for full timers and recreational RVers.
*Annual premium for a basic liability policy excludes travel trailer and is not available in all states. No. 1 specialty RV insurer from 2017 Millward-Brown national survey data.
Rent Your 2012 Allegro RV
RV History & Title Report
Don't make a costly mistake. Get the facts for RVs or tow vehicles before you buy.
Check for title problems
Open liens & recalls
Severe damage
Salvage
Theft
Post your RV ad fast and for cheap
Be seen by over 1.3 million shoppers a month
Compare real, custom loan offers from multiple lenders in minutes!
Find Your Best Rates
Attention west coast RV owners!
We'll pay CASH for your RV – TODAY!
Get Cash