2009 Mallard by Fleetwood M-28BH Sport Equipment: Prices and Specs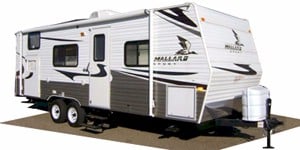 Select 2009 Mallard by Fleetwood M-28BH Sport Options
Notes:
Manufacturer note(s):
TRAVEL TRAILERS/5TH WHEELS - No longer producing after 2009.
Year note(s):
In addition to what is standard and otherwise noted, prices include stabilizer jacks, exterior shower, upgraded tires and spare tire.
Read more
Read less
OR select options below
Option note:
Only select options below that are in
addition
to standard equipment and equipment noted in the manufacturer or year notes show above. If you are uncertain of what came standard, please contact your manufacturer with your VIN.
AIR CONDITIONING AND HEATING
APPLIANCES
ENGINE AND SUSPENSION SYSTEMS
ENTERTAINMENT
GENERATORS
JACKS AND LEVELING SYSTEMS
MISCELLANEOUS OPTIONAL EQUIPMENT