2009 Coachmen
Chaparral Lite Fifth Wheel Series M-268 RLE Special Notes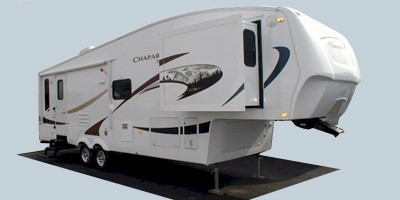 Coachmen Note
TRAVEL TRAILERS/5TH WHEELS - From 1995 to current, awning and three burner h.o.p. range-oven are included in all prices. Add $1000 to models equipped with the Imperial options package. TRAVEL TRAILERS/5TH WHEELS - For information after 2009, please see Coachmen By Forest River.
2009 Note
Prices include AM/FM/CD, microwave, outside shower(N/A on Surge/Wyoming), air conditioner and spare tire. Gas grill (Surge/Captiva/Chaparral), Fireplace, thermopane windows, 2nd air conditioner(Wyoming/Chaparral), generator(Surge/Wyoming), fuel station(Blast/Surge). Spirit of America includes Freedom package. Wyoming includes Comfort America and Touring package. Chaparral and Chaparral Lite include Touring America package.
Insure your 2009 M-268 RLE for just $125/year*
#1 specialty RV insurer: More RVers trust us, and we offer some of the best rates and coverages in the industry.*
Savings: We offer plenty of discounts, and rates start at just $125/year.
Coverages: We have specialized coverage options for full timers and recreational RVers.
*Annual premium for a basic liability policy excludes travel trailer and is not available in all states. No. 1 specialty RV insurer from 2017 Millward-Brown national survey data.
Rent Your 2009 Coachmen RV
RV History & Title Report
Don't make a costly mistake. Get the facts for RVs or tow vehicles before you buy.
Check for title problems
Open liens & recalls
Severe damage
Salvage
Theft
Post your RV ad fast and for cheap
Be seen by over 1.3 million shoppers a month
Compare real, custom loan offers from multiple lenders in minutes!
Find Your Best Rates
Attention west coast RV owners!
We'll pay CASH for your RV – TODAY!
Get Cash