2008 Tioga
SL Series M-31L Ford 6.8 305hp Special Notes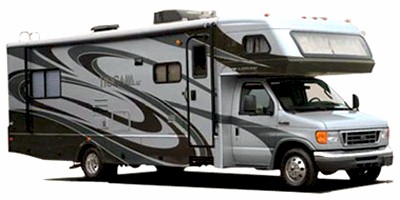 2008 Note
Tioga Ranger prices include awning (also on Tioga), ladder, upgraded vent, power step, LCD TV, auxiliary batteries (also on Tioga), generator, spare tire (also on Tioga), exterior wash, water filter and wrap around booth (only on 25G). The 22B and 23R do not include any of the above options. In addition to items noted above, the Tioga also include exterior entertainment center, air conditioner 15BTU with heat pump, sani-flush, dash upgrade, and power heated rear view mirrors. Tioga SL models 31L, 31W include exterior entertainment. Sani-flush on all SL models.
Save with a FREE quote on a 2008 M-31L Ford 6.8 305hp
Get your Insurance Quote in minutes


Protect your investment


Multiple options available


Get a Specialized RV Coverage to protect your vehicle against depreciation
RV History & Title Report
Don't make a costly mistake. Get the facts for RVs or tow vehicles before you buy.
Check for title problems
Open liens & recalls
Severe damage
Salvage
Theft
Post your RV ad fast and for cheap
Be seen by over 1.3 million shoppers a month
Compare real, custom loan offers from multiple lenders in minutes!
Find Your Best Rates
Attention west coast RV owners!
We'll pay CASH for your RV – TODAY!
Get Cash