2014 Suzuki DR-Z125LL4 Options, Equipment, and Prices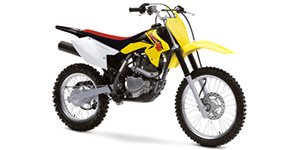 Select 2014 Suzuki DR-Z125LL4 Options
Suited for trail-based recreation or competition, the 2014 Suzuki DR-Z has qualities certain to tempt motocross enthusiasts. Dressed in a Champion Yellow/Solid Black color scheme, the 2014 Suzuki DR-Z line of trail bikes possess a curb under 200 pounds. Propelled by a four-stroke, 124 cc single-cylinder engine, the engine power for the off-road motorcycle is directed through a five-speed gearbox. The 2014 Suzuki DR-Z is offered in a 125 as well as a 125L model. A kick-starter is the only method for engaging the 2014 Suzuki DR-Z's engine. The base model 2014 Suzuki DR-Z125 rides on aluminum rims size 17 inches at the front and 14 at the rear. The 2014 Suzuki DR-Z125L features the same four-stroke engine, but is nearly two inches longer and rides on larger aluminum wheels. Both versions of the 2014 Suzuki DR-Z come equipped with front-wheel disc braking.
Read more
Read less
Note:
VINTAGE - 1937 - 1969 Due to the rarity of these years and models of Suzuki, pricing data is still being collected.

Read more
Read less
There are no options available for this vehicle.