2014 Kawasaki KLX110CEF Options, Equipment, and Prices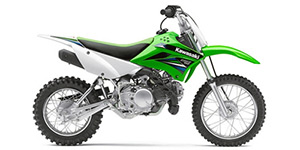 Select 2014 Kawasaki KLX110CEF Options
The KLX® line of Kawasaki motorcycles are built for serious off-roading. Available with one of three powerplants, the 2014 Kawasaki KLX® smaller displacement engines are equipped with electronic fuel injection. Suited for young riders, the 168-pound 2014 Kawasaki KLX110 and KLX110L models are powered by a 111 cc engine connected to a four-speed transmission. For parental control, an adjustable throttle limiter is built into the 2014 Kawasaki KLX110 and KLX110L bikes to carefully regulate the amount of power the young rider will have on the trails. The 2014 Kawasaki KLX110 features 4.3 inches of wheel travel while the KLX110L model allows up to 5.5 inches of front suspension motion. Preferable for teenage or young adults, the 2014 Kawasaki KLX140 and KLX140L is powered by a 144 cc engine mated with a five-speed gearbox. Wheel travel for the 2014 Kawasaki KLX140 is rated at 7.1 inches at the front and rear suspension. The KLX140L model wears larger wheels and possesses a ride height of 31.5 inches. Both the 2014 Kawasaki KLX140 and KLX140L are fitted with full disc braking. Powered by a carbureted 249 cc engine, the 2014 Kawasaki KLX250S can legally operate as a street legal motorcycle. Suspension travel of 10 inches at the 43-millimeter front fork and 9.1 inches allows the 2014 Kawasaki KLX250S to ride confidently along even challenging terrain. All 2014 Kawasaki KLX® motorcycles are accented by a lime green with white color scheme.
Read more
Read less
Note:
VINTAGE - 1949 - 1962 Due to the rarity of these years and models of Kawasaki, pricing data is still being collected.
In 2014 only curb weight was reported

Read more
Read less
There are no options available for this vehicle.