2014 CFMOTO CForce 500 Options, Equipment, and Prices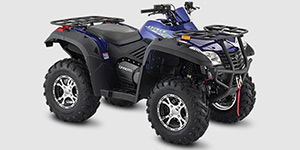 Select 2014 CFMOTO CForce 500 Options
A high-value all-terrain vehicle, the 2014 CFMOTO CFORCE line provides many features found on top-rated ATVs for a lower price. Aluminum alloy wheels, full disc braking, winch and high intensity discharge headlights are some of the attractive features found standard on the CFORCE. All models of the 2014 CFMOTO CFORCE operates with a 2WD/4WD drivetrain with a locking differential. For 2014, the CFORCE ATV is available in three trim levels. Available in Metallic Blue, Metallic Grey as well as a Camo color scheme, the 2014 CFORCE 500 is powered by an electronically fuel-injected, single-cylinder 493 cc engine generating 32.18 horsepower and 28.6 pound-foot of torque. Adding a rear passenger backrest and a digital instrument panel, the 2014 CFMOTO CFORCE 600 is propelled by a 33.53-horsepower 594 cc engine. Riding on 14-inch wheels with full double A-arm suspension, the 2014 CFORCE 800 is powered by a 61.69-horsepower electronically fuel-injected 800 cc V-twin engine. Power steering is optional on the CFMOTO CFORCE 800.
Read more
Read less
Note:
MOTORCYCLES/ATVS/UTILITY - Due to limited resale market, we are unable to determine used sales.

Read more
Read less
There are no options available for this vehicle.