2013 Zero Motorcycles Inc. ZERO S ZF8.5 Options, Equipment, and Prices
Select 2013 Zero Motorcycles Inc. ZERO S ZF8.5 Options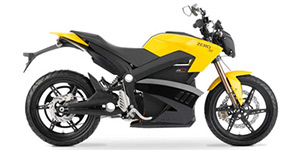 Fast Facts
Described as a streetfighter motorcycle, the fully electric 2013 Zero S™ is deliberately created to deliver impressive road-going performance. For 2013, the Zero S™ has received a considerable power enhancement. Powered by a 54-horsepower Z-Force air-cooled electric motor, the 2013 Zero S™ is advertised as 96 percent more powerful than the previous year's model. Torque production is also greatly increased on the 2013 model year version of the Zero S™ instantly delivering 68 foot-pounds to the rear wheel. The 2013 Zero S™ ZF8.5 and a longer-range ZF11.4 model of the electric motorcycle are available. On the 2013 Zero S™ ZF11.4, the 2013 Zero S™ can achieve a maximum range of 137 miles thanks to its 11.4 kWh lithium-ion battery pack. In addition to the impressive performance, the ride quality of the 2013 Zero S™ solidly supports the lightweight sport bike. 38-millimeter inverted aluminum slider forks on the front are matched with a piggyback reservoir shock on the rear. The 2013 Zero S™ suspension system is customizable with compression and rebound damping adjustments provided for both wheels. Nissin hydraulic brakes on the front and rear 17-inch wheels hands the rider a heightened level of control.
Zero Motorcycles Inc. Note
MOTORCYCLES/ATVS/UTILITY - Due to limited resale market, we are unable to determine used sales. These are electric products.