2013 Yamaha RX10PXTDB Apex XTX (Black) Options, Equipment, and Prices
Select 2013 Yamaha RX10PXTDB Apex XTX (Black) Options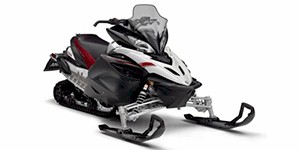 Fast Facts
Delivering utility and power, the 2013 Yamaha Apex snowmobile is a machine equipped to attack trails. Powered by a four-stroke, 998 cc four-cylinder Genesis engine, performance for the 2013 Yamaha Apex is supported by several items of high technology. Fuel injection on the 2013 Yamaha Apex snowmobile assures the Genesis engine will be responsive. An enlarged EXUP exhaust pipe carefully controls pressure waves for more precise efficiency. In addition to technology allowing the 2013 Yamaha Apex to go fast, an Engine Braking Reduction System is in place to present riders with a coasting stop. The airbox on the 2013 Yamaha Apex has been increased in length to improve breathing for the engine.
Yamaha Note
VINTAGE - 1954 - 1960 Due to the rarity of these years and models of Yamaha, pricing data is still being collected.

2013 Note
In 2013 only wet weight was reported.